Where do you imagine yourself during your retirement years? A comfortable and exciting lifestyle surrounded by diverse landscapes and friendly people? Freedom and choices so you never get bored. Amazing food and places to visit. A new journey and adventure. I believe Vietnam ticks all of those boxes and so many more. Do you? Let's have a look at what it's like to retire in Vietnam.
Why should you choose Vietnam for retirement?
There are numerous reasons why Vietnam is a wonderful country, but let's get straight to the point. When thinking of an ideal place to enjoy your retirement, what factors do you usually pay attention to first? The people, scenery, and cuisine are important elements to consider, right?
Vietnamese people are very friendly!
It's no secret that Vietnamese people's hospitality is famous worldwide. Indeed, Vietnamese people tend to consider everyone like family and are always ready to help when they see someone in trouble. Even though not everyone can speak English, you will always find smiles on their faces everywhere.
Vietnamese people are also very outgoing and friendly. They can be very comfortable sharing anything with you. If you decide to retire in Vietnam, you will be welcomed homely, yet politely, everywhere you go.
On the contrary, Vietnamese are also sometimes brutally honest, which is generally a good thing. However, on occasions, it can have funny moments. My foreign friend came to visit Hanoi once, and it was my pleasure to show him around the bustling streets of the old town. Whilst meeting with my local friends for some coffee, the first thing they said was how big his nose was, out loud in public.
He chuckled of course, but it sure was a little embarrassing (and awkward, too). The locals often don't keep thoughts inside their heads, so be aware and just laugh it off. They will also ask very direct questions after just a few minutes of meeting you, "are you married" "how old are you", however this is quite normal in the culture here.
Vietnamese people are very open to foreign cultures. Young Vietnamese today can speak a variety of languages. Films, music, and other cultural products are also widely accepted. In Vietnam, you will rarely see people here showing contempt or discrimination against someone just because they are from a different culture. However, there is of course discrimination between being a tourist and a foreigner living here. So it's well worth learning the basics of the language to communicate with the locals easier.
The crime rate in Vietnam is relatively low. According to the 2019 Global Peace Index, Vietnam ranks 57th out of 163 countries in safety. To put it into perspective here are a few comparisons of crime levels between capital cities around the world, according to Numbeo.com here are a few crime ratings below:
–
Washington DC, US = 58.26
There is of course theft, mostly in the big cities, but it's often indirect, so make sure you don't leave things around. In some small towns and provinces in Vietnam, they even leave the keys attached to their motorbike! Crime is as always more prevalent in the cities, however, overall the crime rate is quite low.
Usually, the thing that you need to look out for the most is being overcharged, as we all know this is especially common in developing countries with a high level of tourists. In Vietnam, this mainly occurs in tourist hot spots like Hanoi old quarter, Ho Chi Minh City district 1, Hoi An ancient town, Da Nang My Khe beach.
I'm Vietnamese and from Hanoi, and it even happened to me when I traveled to a tourist destination in Vietnam. So it's best not to take it too personally and try to enjoy a haggle. Sometimes, all you can do is just walk away.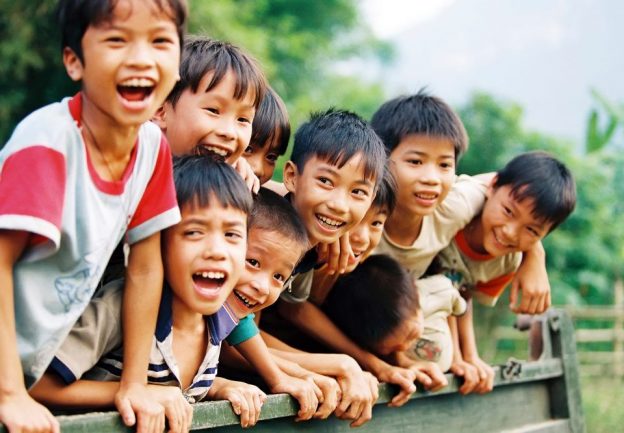 What's about the weather?
Vietnam has a mild tropical or subtropical climate and it varies from North to South, from West to East.
If you are a person who likes cold weather, then the North of Vietnam will be the place for you. Despite being located in a tropical climate area, the high mountains in the North sometimes have snow in winter while temperatures drop below 0 degrees Celsius. A very popular tourist destination in this area is Sapa, Lao Cai with a large number of ethnic minorities and a simple, rustic high-mountain lifestyle.
Going down a bit, Hanoi – the capital city will let you experience all four seasons: spring, summer, autumn, and winter in a year. The summer times usually get quite hot, the temperature can reach 35 degrees Celsius in June and July (and it is getting hotter over the years). Drizzling and sudden rains are normal during summer and autumn.
Last but not least, the most unique trace of the North East weather – the nightmare to all foreigners – is the moldy season. From February to April, the air humidity in the Northern region can be ridiculously high, up to 90%. This leads to water condensing on the surface of objects, from the glass to the floor, even in the ceiling.
And if you are not careful? All of your beloved leather clothing and wood furniture can get moldy pretty quickly. Even the house walls can get molded. Believe me, it is not fun when you find out your favorite books had mold all over them!
Luckily there are effective ways to tackle this issue, dehumidifiers do the trick quite well, a good product that works effectively can cost around $70 – $120. Another method would be to turn the air conditioner in dry mode frequently during high humidity time.
Central Vietnam has warm temperatures all year round. The hottest months are from June to August. However, during the summer, this region gets affected by a lot of heavy storms and floods. Occasionally, one or two typhoons from the Pacific sea will hit the mainland.
Southern Vietnam has two seasons, a dry season from November to April, and a rainy season from May to October.
Not only is it diverse in climate, but Vietnam also has mountains, deltas, and a long coastline with many small islands. This small S-shaped country has a long mountain range in the west and is bordered by the Pacific Ocean on the east side.
If you love the cool climate in high areas, you can choose places like Sapa and Da Lat. And if you want to enjoy the fresh heat with the sound of the waves, there are also many beautiful beach cities across the country. Some famous beaches such as Ha Long, Da Nang, Nha Trang, Phu Quoc,…
Where to visit when retiring in Vietnam?
There are many world heritages recognized by UNESCO that you can visit while retiring in Vietnam:
–
Central Sector of the Imperial Citadel of Thang Long – Hanoi: the only World Heritage Site in Vietnam located inside the capital city, holds huge historical and cultural values.
–
Citadel of the Ho Dynasty – Thanh Hoa Province: is an outstanding example of an architectural style of the Imperial Citadel, a symbol of typical royal power in the East, and a solid military fortress.
–
The complex of Hue Monuments – Hue Province: the residence of the kings of the Nguyen Dynasty, located next to the poetic Perfume River with a feeling of nostalgia and romance.
–
Ha Long Bay – Quang Ninh Province: a famous place attracting millions of visitors every year. There are thousands of beautiful rocky islands and caves here.
–
Hoi An Ancient Town – Quang Nam Province: an old town preserved almost intact with more than 1000 architectural monuments from streets, houses, pagodas, temples… to traditional dishes.
–
My Son Sanctuary – Quang Nam Province: an architectural complex consisting of many Champa temples with extremely unique architecture.
–
Phong Nha – Ke Bang National Park – Quang Binh Province: it has a wild beauty and many world-famous cave systems such as Son Doong cave, Thien Duong cave, Phong Nha cave,…
–
Trang An Landscape Complex – Ninh Binh Province: has a unique ecosystem with limestone mountains whose geological age is more than 250 million years and many temples.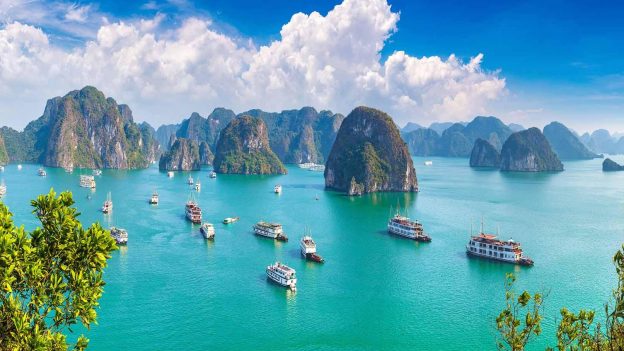 Retire in Vietnam, what to eat?
Vietnam has a very diverse and rich cuisine. With many delicious and unique dishes, Vietnamese cuisine is a part of the national soul.
Vietnamese people in each region have different tastes. Northerners prefer the mild taste, mainly using fish sauce, diluted shrimp paste. They usually have many vegetable dishes and freshwater fish such as shrimp, crab, fish, clams, mussels… Hanoi cuisine is considered the representative quintessence of Northern cuisine.
Central people like to eat spicy and salty food, famous for sour shrimp paste and fish sauce. In particular, Hue people are very picky in the cooking process and presenting the dish.
Southerners often add sugar or coconut milk to the dish. They use a variety of fish sauces, making the dishes unique and savory.
Some of the famous dishes that can be mentioned are:
–
Pho: In pho, there is the ethereal taste of herbs, the sweet taste of the stewed bone broth, the strong aroma of grilled ginger, the spicy taste of chili peppers, and of course, the noodles that are both soft and chewy…
–
Banh my: A rustic dish that is sold all over the streets from big cities to the countryside, making many foreigners excited. Banh my is a kind of sandwich with various fillings, and can completely act as a main dish full of nutrients: vegetables, meat, eggs, pate,…
–
Spring roll: a popular traditional dish during the Tet holiday of the Vietnamese people, made from a variety of ingredients, rolled, fried, and dipped with fish sauce.
–
Banh xeo: a familiar and typical dish of the people in the Central and the South. The simple savory dish is made from rice flour, shrimp, meat … served with vegetables and dipping sauce.
–
Bun Cha: a traditional and symbol of Hanoi cuisine… One serving includes a plate of soft noodles, a plate of vegetables, and a bowl of dipping sauce with grilled meat and meatball.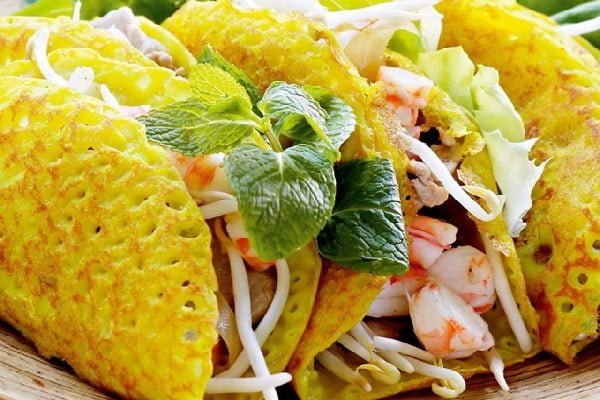 How to get around in Vietnam?
Transportation in Vietnam may not be the greatest nor the easiest to get around, but at least you have a variety of choices.
–
Public transport
:
not my cup of "ice" tea,
but if you still want the local experience, trying to get around the city by bus is an interesting journey. Trains can take you across the country but they are very old and under facilitated. For more details, you can check out
Chris Tarrant's railway journey in Vietnam.
–
Flying
: flying from city to city in Vietnam is an easy, fast, and cheap way to go around the country. From Hanoi to Ho Chi Minh City only takes two hours.
–
Motorbike
: motorbike is the most popular type of transportation across Southeast Asia. However, driving by yourself can be quite dangerous. Traffic jams are a common thing in big cities like Hanoi or Ho Chi Minh. Unless you are an adventurous type, using the motorbike will give you the fullest experience of living in a Southeast Asian country.
–
P2P transport
: the most popular app is Grab, you can easily book a ride using a smartphone at a reasonable price. It is fast, convenient, and has no hustle. Unfortunately, this method is only available in some cities.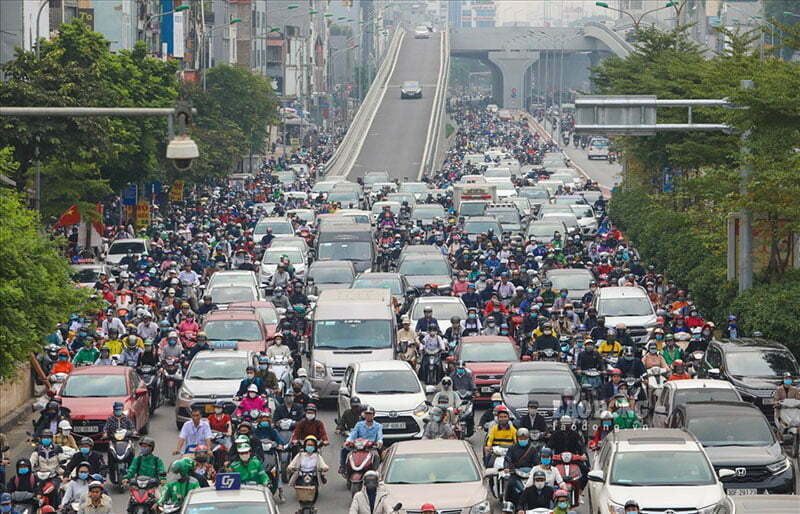 How can you apply for a retirement visa in Vietnam?
Unfortunately, Vietnam still does not have a retirement visa. If your spouse is a Vietnamese citizen? Great! You will be eligible for a 5-years visa. If not, you still have some other options such as:
Tourist passport: The tourist passport is valid for only 3 months, and is currently not available due to the COVID-19 pandemic situation.
Business visa: includes DN1 and DN2, these visas will let you stay in Vietnam up to 3 months
–
DN1: granted to those who work with Vietnamese businesses and organizations
–
DN2: granted to foreigners who come to Vietnam to offer services, establish a commercial presence, or perform other activities under international treaties to which Vietnam is a member.
Investor visa: granted to foreign investors or representatives (Legal Rep) of foreign organizations investing in Vietnam, corresponding to each capital level, specifically:
–
DT1: from 100 billion VND or more, valid for up to 5 years
–
DT2: from 50 billion VND to less than 100 billion VND, valid for up to 05 years
–
DT3: from 03 billion VND to less than 50 billion VND, valid for up to 03 years
–
DT4: less than 03 billion VND, valid for up 01 years
Investing in an existing company or a new company is one of the common choices retirees do in Vietnam to lock down their long-term visas. This will grant you a DT4 Visa, it is valid for around 1 year and can easily be extended every year as long as the company is still operational.
You can invest from around $5000 – $30,000 into a startup or existing business depending on the evaluation of the business. If you would like to see some options for businesses for sale in Vietnam you can contact our team, and we can send you some information and discuss the process, regulations, and legal issues of investing in a business in Vietnam.
Another option is to obtain a work permit, this might not be suitable for everyone however some of you might want to use your experience and expertise to either consult or work part-time in a company here in Vietnam. In return, you can receive your work permit.
You can take a look at this news article to see the latest work permit rules and regulations. However, keep in mind that all visa laws & policies do change regularly so if you would like to clarify anything don't hesitate to contact us.
.
How much does it cost to retire in Vietnam?
With a population of more than 96 million people and a GDP in 2019 reaching $261.9 billion, Vietnam's per capita income is about 4.2 million VND/month. This figure is only about 185 USD a month, which is more than 2100 USD a year. This general standard of living for locals is relatively low compared to Western countries such as Europe or North America. However, the middle class in Vietnam is emerging rapidly and some prefer a lavish lifestyle.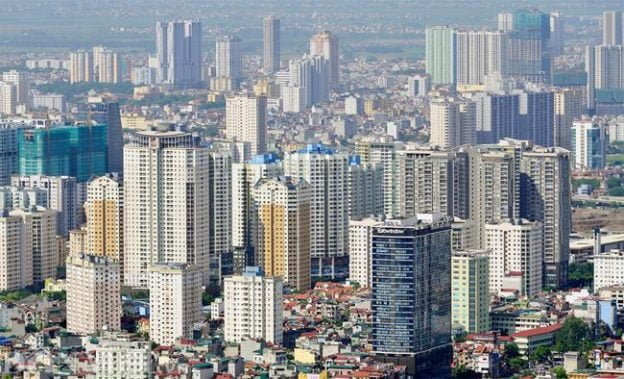 .
Below are the average costs for basic necessities in some popular cities.
Hanoi cost of living
Hanoi, the capital city, is the second-largest city in Vietnam and the political center of the country. Famous for its hundred-year-old architecture and rich culture with influences from Southeast Asia, China, and France. The cost of living in Hanoi is 31% less expensive compared to Bangkok, Thailand.
–
Rent (one-bedroom apartment):
400 – 800 USD
–
Groceries:
100 – 200 USD
Ho Chi Minh City cost of living
Ho Chi Minh City is the largest city and an economic center of Vietnam. It's located in the South and is commonly known as Saigon. Ho Chi Minh City is a modern and fast-paced city with many entertainment places. The cost of living in Ho Chi Minh City is about 10% more expensive than in Hanoi, the most expensive city in Vietnam.
–
Rent (one-bedroom apartment):
500 – 900 USD
–
Groceries:
150 – 250 USD
Da Nang cost of living
Da Nang is the largest city in central Vietnam and one of the country's most important ports. It is famous for beautiful beaches and a common choice for retirees. Da Nang is also located near Hoi An ancient town and the imperial capital of Hue.
–
Rent (one-bedroom apartment):
300 – 500 USD
–
Groceries:
100 – 200 USD
These prices are only the estimate of the average cost in each city. For more references, you can check out this website. Nonetheless, Vietnam is relatively cheap and offers a wide range of services. If you choose to retire in Vietnam, you can live comfortably with a few hundred a month or spend thousands of USD on a lavish lifestyle.
Conclusion
Vietnam has a lot to offer for retirees. Friendly people, all kinds of weather, stunning scenery, excellent cuisine, various choices of transportation, and rich culture. However, Vietnam does not have a retirement visa yet, but there are many ways to get around that without much hustle. Check these if you are also interested in healthcare and where are the best places to retire in Vietnam.
.
.