Expat life in another country is an adventure that could bring you fantastic experiences, especially, in a unique country like Vietnam. However, before you pack your bags and purchase your ticket, consider the following pros and cons of expat life in Vietnam.
Pros of expat life in Vietnam
Expat life in Vietnam has affordable living expenses
If you are from developed countries or regions, you will find the cost of living in Vietnam very affordable. With a GDP in 2019 reaching $261.9 billion, Vietnam's per capita income is about 4.2 million VND/month. This is just around $185 each month, or more than $2100 a year. In comparison to Western countries, this number is quite low.
Vietnam's local food is incredible and cheap
To give you some context, one bowl of pho (Vietnamese noodle) has an average price of only 30.000 VND, which is only $1.3 or 0.97 cents! So, with just $1, you can enjoy a healthy and fulfilling breakfast full of nutrients when living your expat life in Vietnam.
Vietnam cuisine also has many famous dishes like banh xeo, bun cha, bun bo Hue, chung cake, stewed fish, spring roll, etc. All of which have cheap prices and delicious tastes. Not to mention that Vietnam cuisine is diverse from region to region, so you have a lot of options in your expat life in Vietnam.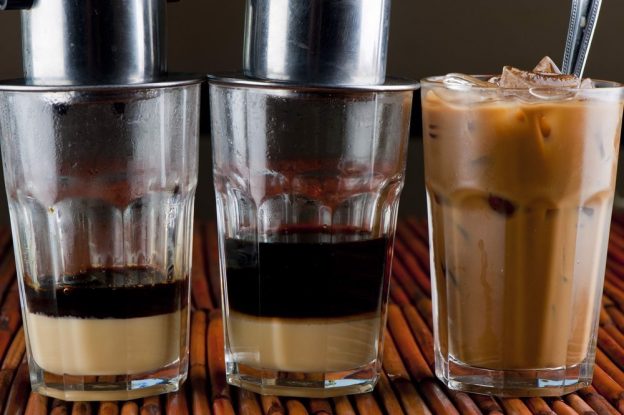 Housing prices in Vietnam are affordable
When it comes to renting fees, price ranges are different based on where you choose to live, just like any other country. However, the average price is still affordable. For $400 – 800, you can get a one-bedroom apartment with a nice view in big cities like Hanoi and Ho Chi Minh City. Utility fees range from $60 to $80 per month, very affordable.
Apartments in Hanoi or Ho Chi Minh City are now as modern as anywhere else so you can comfortably enjoy your expat life in Vietnam. In 2021, many brand new apartments and Airbnb come with smart TVs, a two-in-one washer and dryer, fast wifi, and the building may come with a pool and gym as well.
Grocery shopping in Vietnam is easy and cheap
With such a low price for food in Vietnam, you can easily eat out every day, but if you choose to do your own grocery shopping, The price may surprise you since Vietnam is an agriculturally based country. Fresh local produce like vegetables, fruits, and seafood is relatively cheap, especially when they are in season.
On the other hand, imported food is expensive, and it is hard to find the exact brand. So, if you want to get your favorite food or snacks back home, it is better if you can bring them yourself or find alternative products.
Normal household groceries cost around $200 per month. If you choose to do the shopping in local markets instead of supermarkets, you will find fresher food with lower prices, and you can bargain, too.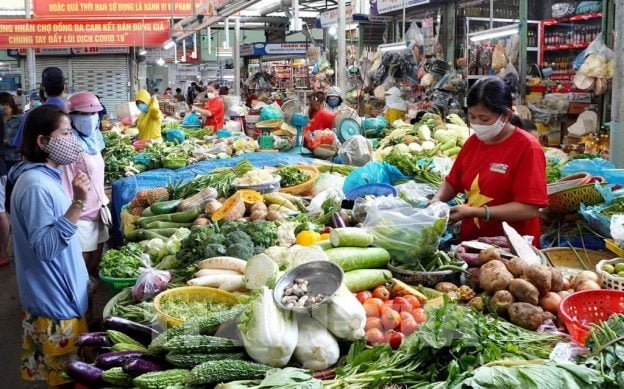 .
Expat life in Vietnam is full of work opportunities
As a foreigner in Vietnam, you can easily find jobs such as teaching English with decent pay. Language teaching is a popular and easy way to make money. Even when you do not have a TESOL (Teaching English to Speakers of Other Languages) or TEFL (Teaching English as a Foreign Language) certificate, many English centers are still willing to hire you. Experienced teachers can get into international schools which offer a very high salary, more than enough to provide you with a comfortable life in Vietnam.
Other popular jobs for expats in Vietnam are technical engineer, IT engineer, chef, and other management and specialist positions. The digital nomad community in Vietnam has grown rapidly over the years, most of them choose to live in Danang.
In a 2018 annual Expat Explorer survey, HSBC revealed that the annual income of expats in Vietnam is over $90,000. I'm not so sure how accurate that is, and probably it's for specialist positions. You can take a look at this news article to see the latest work permit rules and regulations. Vietnam has recently relaxed some of its work permit rules to attract more foreign workers.
Another attractive opportunity for expats in Vietnam is starting a new business or investing in an existing business. Besides the opportunity of a high return on investment, you will also be eligible for an Investor visa, which will last up to 5 years depending on your capital level.
Keep in mind that all visa and work permit rules do change regularly, so if you would like to clarify anything, don't hesitate to contact us.
.
Cons of expat life in Vietnam
Hectic traffic
Vietnam's roads are very dangerous. It is a common problem in Southeast Asian countries where motorbikes are the most used vehicle.
Vietnam is well-known for its crazy traffic, and most of the stories are true. In big cities like Hanoi and Ho Chi Minh City, the street's view in rush hours is like a sea of helmets. Riding a motorbike in Vietnam can be dangerous, but it can also give you a real sense of freedom and thrills.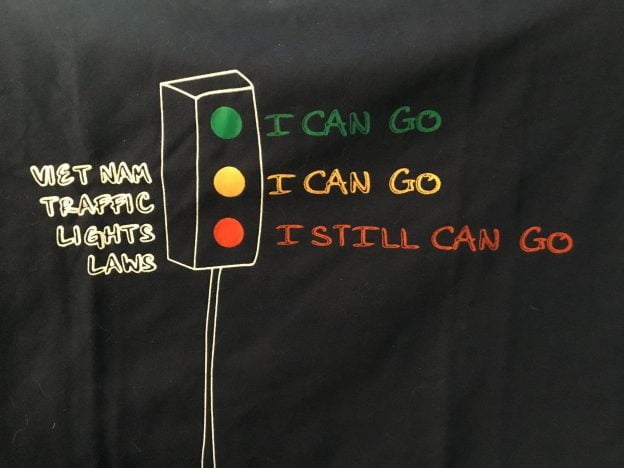 Pollution is a major problem
Vietnam is still a developing country with many heavy industrial zones, so it is no surprise that it is so polluted. Air pollution is a major problem in this beautiful country. You are recommended to wear masks on a daily basis, especially masks that can filter up to PM 2.5 dust particles.
If you use apps like IQAirVisual to check, Hanoi and Ho Chi Minh City are red all the time. Sometimes, the air quality is warned as hazardous. Make sure to avoid going out in rush hours if you can, and wear decent masks, even when the COVID-19 is over.
Conclusion on expat life in Vietnam
Just like other countries, Vietnam has its own strengths and weaknesses. However, it does have a lot to offer and I highly recommend you to visit and explore it on your own. Expat life in Vietnam is becoming a popular choice, for both younger generations and retirees.