Although they are eager to reopen, many businesses in Ho Chi Minh City say that low vaccine coverage and labor shortage will become huge barriers.
A series of businesses in Ho Chi Minh City said that they are struggling and can hardly survive after more than three months of social distancing, so it is urgent for the city to gradually reopen the economy.
However, many business owners are more concerned with problems like low vaccine coverage for workers and serious labor shortage matters.
According to a survey of many associations, the number of businesses that can return and recover soon is forecast to be only about 30-50%, the rest are in a "dilemma" position having to face many obstacles.
Low vaccine coverage
Currently, Ho Chi Minh City is prioritized by the Government to allocate vaccines. The rate of eligible people who have received the first dose by September 8 is about 85%. It is expected that by September 15, more than 90% will have received the first vaccination. The city is also vaccinating second doses for those who qualify (reaching 20 – 30%).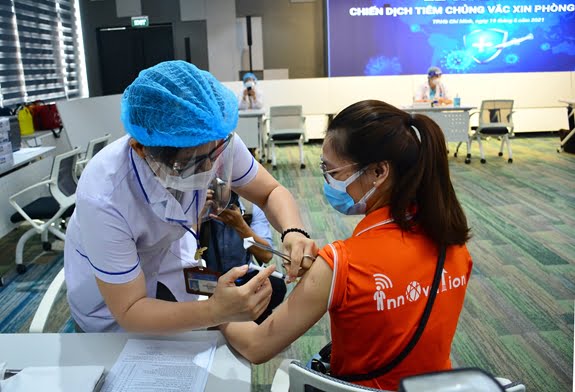 However, the vaccine coverage rate for the workforce at enterprises in the city is quite low. Mr. Nguyen Hoang – an owner of a textile company with more than 2,000 employees in Thu Duc City, said that the company has stopped working for two months, so workers are looking forward to going back to work. According to him, the obstacle is that only about 30% of the company's employees have been vaccinated with the first dose. "If it is reopened, the company's production capacity will only reach a maximum of about 50%", he states.
Mr. Nguyen Truong, director of an agriculture product export business in Tan Phu district also said that his company's employees were vaccinated with the first vaccination on June 23, but so far they have not received the second dose. According to him, to restart production soon, it is necessary to speed up the vaccination schedule for workers as quickly as possible.
Vietnam Association of Seafood Exporters and Producers (VASEP) also pointed out that, although the Government has directed to put the workforce in manufacturing and industrial zones as a priority for vaccination against Covid-19, however, until the end of August, the average vaccination rate (1st dose) for seafood workers in the South and Mekong Delta region was only 30 – 40%. Not one business has any staff who have received the 2nd vaccination yet.
Also acknowledging the low vaccine coverage, Mr. Dang Hoang Giang, Vice Chairman of the Vietnam Cashew Association, said that according to the association's data, most businesses, especially in remote areas who have not received the 2nd dose, the rate of 1st vaccination uptake is only about 30%. Therefore, if reopening does occur, only 30 – 40% of businesses will be able to meet the requirement.
Labor shortage
In addition to low vaccine coverage, the shortage of labor force is an added dilemma for businesses. Sharing with VnExpress, most businesses state they are at risk of having an employee shortage of about 30 – 40%. Some businesses will only have around 50% of employees when reopening again.
"This is a tough problem for businesses because it is still difficult to find workers after reopening. Most of the workers have returned to their hometowns and have no intention of coming back" said Truong Chi Thien, General Director of Vfood.
According to the owner of a food business in Ho Chi Minh City who is applying "3 on-site" (production, quarantine, accommodation), since the beginning of August, the company has repeatedly planned for the "new normal" situation, but the more they calculate, other problems come to fruition due to the pandemics complex situation. Currently, the number of employees is only 40% so can only maintain moderate production. He states, "If the city opens in September, businesses can survive but will not have a sufficient labor force in order to expand".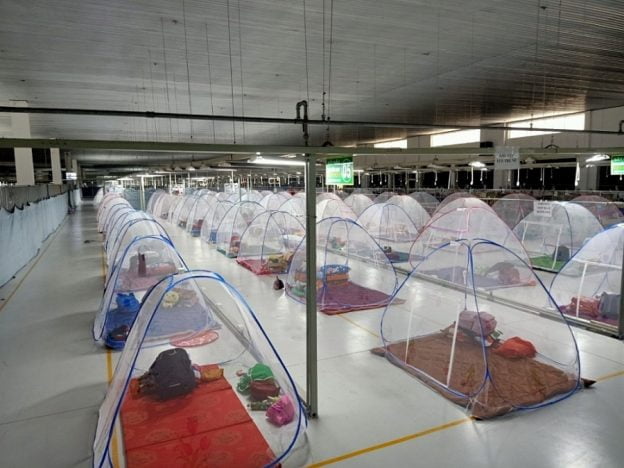 VASEP's survey showed that the number of workers nationwide has decreased by 60 – 70%. The reason quoted is that they have not been vaccinated, and therefore cannot work. Others have either returned to their hometown, put into quarantine, or being treated for Covid.
According to statistics of the HEPZA Businesses Association of Ho Chi Minh City – HBA, at least 20,000 workers working in industrial parks have left the city to return to their hometowns. Thousands of workers work in industrial and manufacturing zones in Ho Chi Minh City but live in bordering areas such as Dong Nai, Binh Duong, Long An… Therefore, when Ho Chi Minh City reopens, these workers will find it very difficult to return to work because they have not been fully vaccinated.
The report "Creating a driving force for economic recovery in Ho Chi Minh City in the fourth Covid-19 outbreak" by the University of Economics and Law and the Research Institute for Banking Technology Development, Vietnam National University, Ho Chi Minh City, has just been published. It shows that job opportunities, which have been reduced during the lockdown period, are likely to decline more sharply after the reopening. Without timely solutions, the unemployment rate of Ho Chi Minh City and the Southern region will increase sharply.
Let's start with the root cause
For businesses to resume operations, the research team proposed that the Government should speed up the vaccination rate for workers across the country. This is a key condition for businesses to be able to operate safely again.
Ho Chi Minh City also needs to build accommodations for workers in industrial and manufacturing zones. This will help improve the living conditions of employees, limit the risk of disease outbreaks, and especially attract skilled workers to return to the city.
In addition, the research team recommends that, besides the support package from the Government, Ho Chi Minh City needs to have its own support package of 22,291 billion VND, equivalent to 1.7% of 2020 GDP. This number needs to be high enough to create motivation for economic recovery.
The neighboring relationship, especially between Ho Chi Minh City, Dong Nai, Binh Duong, and Long An is also very important. This is because regional connection activities up until now have mainly relied on "market functions", it has not been synchronized with high efficiency. Businesses have been seriously injured due to the supply chain disruption caused by the broken regional connectivity. To avoid repeating this pattern, Ho Chi Minh City needs to provide solutions to maintain the supply chain with detailed scenarios to minimize the vulnerability of the economy.
Source: VnExpress