EVNHANOI plans to apply technology, digitally transform all fields of operation, and build a smart grid in the 2021-2025 period.
This is a change towards the goal of gradually modernizing the power grid, promoting automation in electricity operation and trading. Hanoi Electricity Corporation (EVNHANOI) applies scientific and technological achievements of the fourth industrial revolution, improves the reliability of the power supply, and optimizes the city's power grid.
The smart grid ability
The smart grid goal is to predict and precisely react to the behavior and action of all units connected to the grid. All components of the grid will interact with each other, forming a unified intelligent power supply system using modern technologies. The information collected and analysis results will help to optimize the use of electricity, reduce costs, and increase the reliability and efficiency of the power system.
For distribution companies like EVNHANOI, the smart grid will help improve power supply reliability, energy efficiency, and cost reduction through improving operational efficiency and information management… Labor and operating costs are also decreased thanks to the application of electronic meters/smart meters, and technologies that allow data collection, monitor, and remotely control equipment on the grid via telecommunications networks (RF, mobile…).
For customers, the smart grid will help monitor the power consumption of devices in real-time. Based on the data, users can adjust their electricity usage behavior to save money. Furthermore, the application of science and technology in business and customer service will enhance customer's experiences.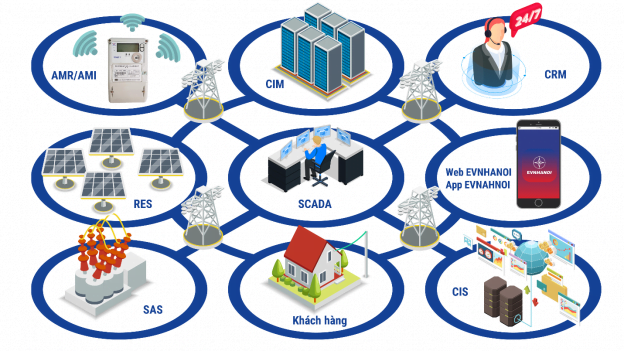 Main components of the smart grid
SCADA/DMS (Supervisory Control and Data Acquisition/Distribution Management System) management and monitoring system
A combination of real-time monitoring, data collection, and control devices. Based on collected data, the system will carry out DMS distribution grid management methods (such as circuit prevention, capacity trends, grid operation optimization…). Monitoring the performance of grid components on a large scale can provide the management team with accurate information to make timely decisions, avoid incidents, and improve the capacity and reliability of the power grid.
Information and communications technology integration
A combination of hardware (server equipment, switches, mobile and wireless communications, communication via power lines) and software solutions (ERP, Billing & Customer Information System) help support the information exchange process and improve the operational efficiency of business organizations.
Renewable energy system (RES)
The system connected to the power grid has the function of analyzing, forecasting load demand, and the system's response-ability to adjust the amount of capacity. This system helps to balance supply and consumption through automatic control of loads using power supplies, including distributed sources and renewable energy.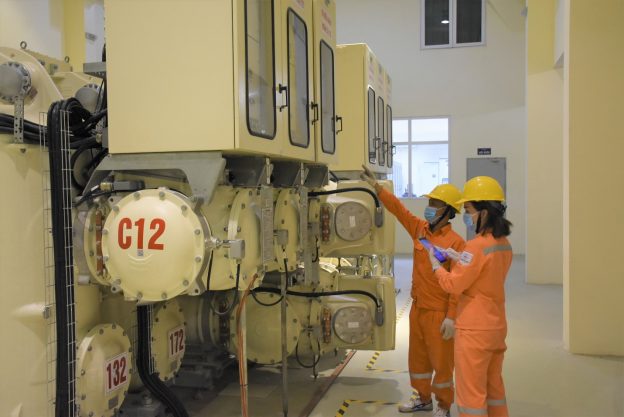 Distribution grid management
A collection of hardware devices (line sensors, substation sensors, automatic substations) and software solutions (Geographic information system – GIS, outage management system – OMS) to increase power quality, equipment usage efficiency, limit power loss and reduce troubleshooting time.
Advanced metering infrastructure
Including smart meters, hardware, and telecommunications infrastructure for two-way data transmission between meters, electricity suppliers, and software systems (Head End System- HES, MDMS, Automated meter reading – AMR, Advanced Metering Infrastructure – AMI). The system provides many outstanding utilities such as collecting, storing, and analyzing real-time electricity usage data, supporting complex electricity tariffs over time, analyzing consumption, fraud prevention, and debt management.
Customer-side systems
Hardware and software solutions (Customer Relationship Management – CRM, Customer Information System – CIS, Customer Management Information System – CMIS) help manage, analyze interactions with customers and customer data to improve relationships with customers. The system also supports customers to effectively and economically manage power consumption with an energy management system, storage devices, displays, smart devices, smartphone applications, and online interactive channels.
EVNHANOI develops a detailed roadmap to build a smart grid in the 2021 – 2025 period with many solutions: Operation management, technical management, customer service, asset management, and human resource management. The safe, continuous, and stable power supply plays a crucial part in economic development and social security. The smart grid will help to improve the reliability of the power supply during operation and enhance relationships with customers. In addition, the smart grid can integrate with renewable energy such as solar energy and wind energy, supporting the development of clean energy and contributing to reducing polluting waste, protecting the environment.
Source: VnExpress
.