After the fourth social distancing period has now ended, traditional markets are busy once again, F&B businesses are excited and keen to reopen now they are allowed to sell takeaways. Meanwhile, the pandemic's prevention methods continue to be taken seriously by business owners.
T

raditional markets are crowded
From 6 a.m on September 21, many traditional markets in Hanoi were crowded with people after nearly 2 months of social distancing. People were busy buying and selling and in high spirits. Now you can enter the market without the stamp card, however, other safety measures remain in place. Everybody is allowed to enter the market via one route and exit at the other end, and all stores will continue to maintain a safe distance between sellers and buyers.
Ms. Do Thu Trang, residing in Minh Khai Street, Hai Ba Trung District, Hanoi, said that during the implementation of social distancing, some items such as meat were limited and quickly sold out, now business has resumed and goods are plentiful and prices stable.
"During the quarantine period, the price of pork and chicken was increased due to the disruption of the supply chain. Today, the price has decreased slightly and is almost back to normal" said Ms. Do Thu Trang.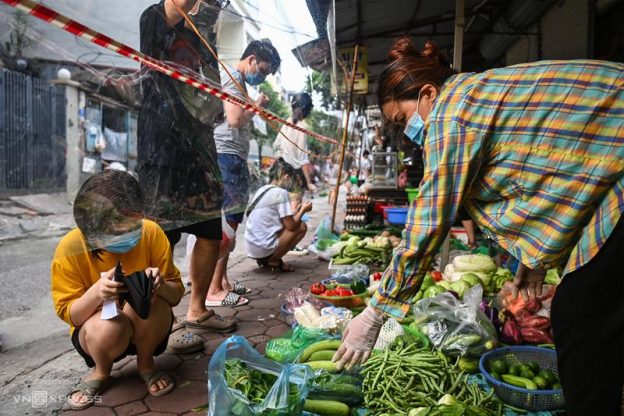 Reporters at traditional markets showed that the prices of some vegetables were quite stable. For example: cabbage, carrot 15,000 VND/kg; zucchini, cove bean, scallion 20,000 VND/kg; tomato 25,000 VND/kg; lemon 20,000 VND/kg…
Meanwhile, the price of fruit is also reasonable: red dragon fruit 50,000 – 55,000 VND/kg; watermelon 30,000 VND/kg; persimmon 35,000 – 50,000 VND/kg; pomegranate 35,000 VND/kg; chrysanthemum flower 25,000 – 30,000 VND/bundle; peony flower 30,000 – 40,000 VND/10 flowers; yellow chrysanthemum 40,000 VND/10 flowers.
Ms. Pham Thi Huong, a small shop owner at Nguyen Cong Tru market, Hai Ba Trung district, Hanoi, said "Now people can go to the market without the stamp card, the market is more crowded and bustling. However, we still ensure full compliance with the COVID-19 prevention regulations. This practice helps protect the safety of ourselves, as well as our customers."
With the same opinion, Nguyen Thi Nghia, owner of a vegetable stall at Hom Duc Vien market, Hai Ba Trung district (Hanoi) said "We are very happy that Hanoi has ended social distancing and more people can go to the market. Furthermore, the prices of vegetables and fresh fruits have not increased, being even lower than usual because they are in the harvest season."
According to small owners, the circulation of goods is almost normal again. The weather is ideal, the supply is plentiful which reflects in the prices of the vegetables and fruits being inexpensive.
F&B businesses are excited to sell take-away
While traditional markets are bustling with sellers and buyers, F&B businesses in Hanoi have begun to sell take-out after more than 2 months.
Since early in the morning, Ly Quoc Su pho shop on Phung Hung Street, Hoan Kiem District, Hanoi has reopened after a long period of temporary closure. According to the owner of the pho restaurant, right after reading the notice about Directive 22 of the Hanoi People's Committee, Ms. Nguyen Thi Vuong joined the staff to clean the restaurant in the middle of the night so they could be ready to open early the next morning.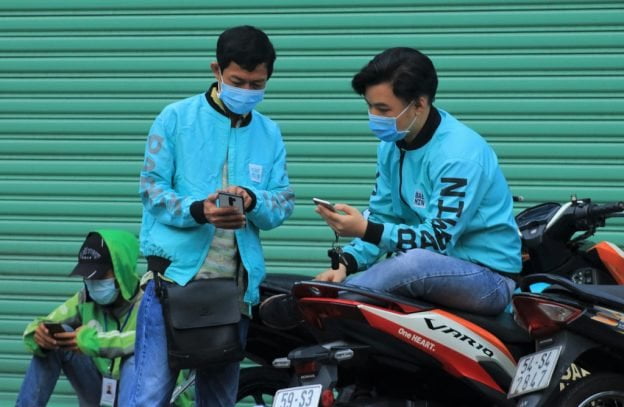 Almost all small shop owners are happy and excited that services can resume operation, life is returning to its normal rhythm. Although they can only sell take-away, F&B business owners are also in high spirits.
Ms. Nguyen Thi Loan, owner of a banh cuon shop on Bach Mai Be Street, Hai Ba Trung District, Hanoi said she is extremely happy now Hanoi has reopened food and beverage shops, even if it is currently only takeaway food and drink. Being in business again ensures her family can cope again as this is the only source of income the family depends on. Just during one morning, she had received more than 20 orders.
When reopening, many business owners had created QR codes for customers to declare their health status and to strictly follow pandemic prevention and control measures. People have to wash their hands with disinfectant before entering to buy take-out food.
Source: VnExpress
.
.