In the survey with more than 21,000 businesses, nearly 70% reported having closed down, mostly because of disrupted supply chains. Many businesses said they only have money to operate for less than one month.
Businesses are closing down
From August 12 to August 22, the Research department for private economic development and VnExpress newspaper conducted a quick survey on the financial situation of businesses during the Covid-19 pandemic. This online survey was filled out by 21,517 businesses.
As a result, 69% (equivalent to 14,890 companies) said that they had to suspend production and business due to the pandemic. Most of these are small, micro-businesses. Only 16% still tried to maintain production or parts of the business, and the rest were completely closed.
The large number of companies that had to stop doing business due to the epidemic is mainly based in Ho Chi Minh City, Binh Duong, and Dong Nai. These places are also reported to have the highest number of Covid-19 cases in Vietnam and have prolonged social distancing.
In addition, more than 21% of businesses were forced to close because they did not meet Vietnam's pandemic prevention requirements. This has contributed to the disrupted supply chain and worsened domestic production.
Almost half of businesses were unable to estimate how long they have to remain shut down. This suggests that they are rather passive and heavily dependent on the COVID-19 situation.
28.5% reported being closed for 1-3 months, 2.5% said they have to close for half a year, and the rest said they have been "hibernating" for 3-6 months.
The seafood industry, service, agriculture, and forestry sectors accounted for the highest shutdown rate, followed by the production and construction industries.
The service industry is reported to have a high rate of job loss, over 50%. In which, accommodation, food, and tourism services have been heavily affected, with only 4% remaining operating.
The main cause of the temporary closure of businesses is the disruption of the domestic supply chain. Due to the lockdown in many provinces and cities, many local authorities only allow "essential goods" to circulate. Pandemic control checkpoints have been set up on all major routes with different requirements about which goods and vehicles are allowed to transport.
The government agrees to allow goods to be circulated normally, but each province still has its own regulation. The flow of goods is therefore congested, causing transportation costs to skyrocket. Not only do they cost more time, but companies must also spend a lot of money on the driver's COVID-19 testing.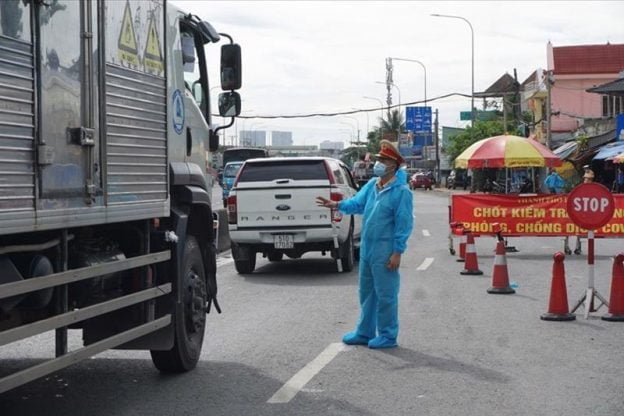 Businesses are running out of money
Cash flow is considered the blood of the business, but the survey results show that most are lacking "blood" to exist. 40% of businesses that have temporarily closed because of Covid-19 said they only have enough money to maintain operations for less than 1 month.
Without the cash flow, businesses are forced to borrow, and mostly from banks. This leads to the burden of paying interest that always "haunts" the owners. Besides, salary expenses, rent payments for warehouses, factories, offices, social insurance, health insurance, unemployment insurance, trade union fees, electricity, water, fuel fees… are also great pressures.
What policy do businesses need right now?
Survey results show that 62% choose the option of having support for 1-3% interest rate loans a year to pay salaries. This is an important policy to help businesses overcome difficulties.
During the temporary shutdown, businesses still have to pay wages to employees, while waiting for the opportunity to recover. The demand for recruiting new workers after the pandemic is increasing, especially for the group of management and high-tech personnel.
In addition to salary and insurance, they also bear many other costs in order to maintain the supply chain. On average, companies that maintain "3 on-site" (production, quarantine, accommodation) have to pay about 9.3 million VND more per month for each employee, which causes the cost of labor to double.
Corporate income tax reduction is chosen by 65% ​​of businesses that are maintaining operations. The Research department analyzed that when costs increase, especially labor costs, many businesses may no longer make profits.
In this case, the income tax reduction option may show no effect, but if the company can overcome this difficult time, this is the policy that will help them have more cash flow to accumulate, expand domestic investment, and maintain their production and business activities.
Reducing electricity, water, and fuel fees is a support policy chosen by more than 50% of businesses.
Many corporations also want to lower the social insurance rate. When this contribution rate decreases, businesses can use it to pay voluntary insurance for employees. The survey shows that nearly 30% of businesses think that "delaying social insurance contributions for 3-6 months" or "reducing personal income tax" will be effective for them.
In order to maintain the safety of production and business, businesses said the government should have solutions to ensure the smooth operation of the supply chain. If they lose the market shares and customers, it will be difficult for businesses to recover after the pandemic.
With the vaccine strategy, businesses want the authorities to allow those who have fully vaccinated to return to work, prepare and have a plan to live with the epidemic after achieving 70% herd immunity.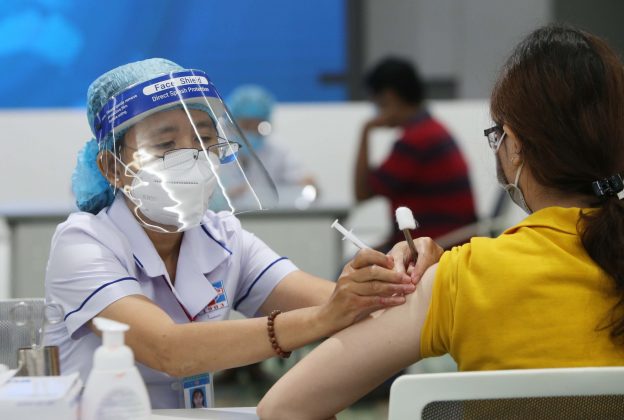 Many comments proposed to speed up vaccination by allowing the private sector to be involved. When the government provides free vaccines for the mass, the private sector will provide vaccination services for workers in enterprises. This also helps to share the burden with public health facilities, quickly create herd immunity, and at the same time give businesses the opportunity to reopen and resume normal operations.
Vietnam's growth rate prediction
According to Cafef, in the first half of 2021, Vietnam still achieved positive economic results. Specifically, the economy recorded a growth rate of 4.65% in the first quarter and 6.61% in the second quarter of 2021 compared to the same period last year.
However, with the fourth COVID-19 outbreak still not under control, many organizations have recently lowered their forecast for Vietnam's economic growth this year.
Specifically, the World Bank forecasts that Vietnam's economic growth for 2021 will decrease to 4.8%. This forecast is 2 percent lower than the forecast made by the World Bank in December 2020, which is 6.6%.
Standard Chartered also lowered Vietnam's growth forecast from 6.5% to 4.7% in 2021. Dragon Capital lowered its GDP growth forecast to 3.7%. Rong Viet Securities Company (VDSC) predicts that Vietnam's GDP will drop to 4%.
According to Rahul Kitchlu, the World Bank's director at Vietnam, Vietnam's economic recovery in the second half of 2021 is still dependent on the results of the government controls over the current outbreak of Covid-19. In the long term, experts believe that the Covid-19 pandemic fighting strategy must be accompanied by a logistics strategy. If not, the supply chain disruption will become more and more severe, hurting the whole economy.
.
.
.
.