From October 10, Vietnam will re-operate 19 flight routes across the country, including routes to Hanoi, Ho Chi Minh City, Hai Phong, and Da Nang.
.
Vietnam reopens domestic flight routes on temporary regulations
On the evening of October 8, the Ministry of Transport (MOT) issued temporary regulations on the deployment of domestic commercial flights until the end of October 20.
The Ministry of Transport will reopen 19 domestic flight routes with 38 round-trip flights per day. In particular, the two-way routes between Ho Chi Minh City and Binh Dinh/Da Nang/Hue/Khanh Hoa/ Nghe An/Phu Yen/Quang Binh/Quang Nam/Thanh Hoa/Hai Phong/Phu Quoc/Gia Lai/Rach Gia have a one trip per day frequency.
Flight route between Hanoi – Ho Chi Minh City/Da Nang; Da Nang – Can Tho/Dak Lak; Thanh Hoa – Lam Dong also has one round trip per day. However, the Hanoi – Can Tho route will be flexibly adjusted according to the pandemic situation.
In the new plan of the Ministry of Transport, airports in Hanoi, Hai Phong, Gia Lai will all receive aircraft. Specifically, Hai Phong has a round trip to Ho Chi Minh City. Hanoi has two round trips to Da Nang and Ho Chi Minh City. Gia Lai has a daily Ho Chi Minh City trip. Previously, the authorities of these localities did not agree to accept these flights proposed by the Ministry of Transport.
.
Passenger requirements
According to the instructions of the Ministry of Transport, passengers are required to receive two doses of the vaccine or have recovered from Covid-19 within 6 months by the time they return to their localities and have a negative test result within 72 hours before boarding.
Passengers must fill out medical declarations and fulfill their commitments on pandemic prevention. Passengers are not allowed to board the plane when they have symptoms such as cough, fever, shortness of breath, muscle aches, sore throat…
After the flight, when returning to their localities, passengers should not go to crowded places. They have to self-monitor health or self-quarantine at home for at least 7 days (in accordance with specific regulations of each locality). Especially, people who come back from pandemic areas must be tested on the second day after returning.
The Ministry of Transport also requires localities to manage and supervise people returning to their localities to control the spreading of the COVID-19 to the community.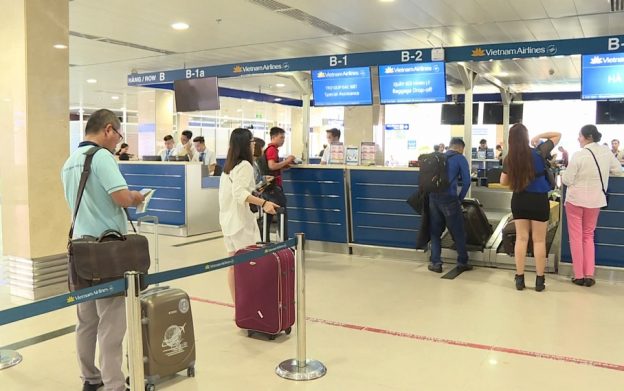 .
Airline plans to reopen domestic flights
As soon as the Ministry of Transport issued the temporary plan to reopen domestic flights, airlines had made a flight schedule and started selling tickets until the end of October 20.
Vietnam Airlines will resume 14 two-way routes, including Hanoi – Ho Chi Minh City – Da Nang; Ho Chi Minh City and Hai Phong, Thanh Hoa, Quy Nhon, Hue, Da Nang, Quang Nam, Dong Hoi, Cam Ranh, Tuy Hoa, Phu Quoc; Thanh Hoa and Da Lat.
The Hanoi – Ho Chi Minh City route has one round-trip flight per day, departing at 13:00 and returning at 16:00. This is the only airline operating flights between these two big cities.
The remaining flight routes will have 5 flights per track, operating from October 10 to October 20. In total, 152 Vietnam Airlines flights will take-off during this period.
Bamboo Airways sold tickets for 12 domestic flight routes in 11 days. Specifically, from Ho Chi Minh City to Binh Dinh, Da Nang, Hue, Khanh Hoa, Nghe An, Phu Yen, Quang Binh, Quang Nam, Thanh Hoa, Hai Phong, Phu Quoc and vice versa. The round trip from Hanoi to Da Nang is also re-operated.
In 11 days of reopening domestic flights, the Ministry of Transport will evaluate and summarize the situation, proposing the Government to supplement and adjust plans to suit the actual situation in the next period.
At the beginning of August 2021, the aviation industry stopped all flights between Hanoi and Ho Chi Minh City and between localities that are implementing social distancing under Directive 16. Forcing all domestic flights to stop selling tickets. The Hanoi – Ho Chi Minh City route only maintains a minimum of 2 flights per day to transport business travelers and guests on anti-pandemic duty (doctors, nurses, army, experts, etc).
.
Source: VnExpress
.