Southeast Asian countries are accelerating the development of renewable energy, providing wider access to clean and affordable electricity for all citizens. Especially, Vietnam has become the leader in developing its solar energy.
As reported by the 6th ASEAN Energy Outlook (AEO6), economic growth in the Association of Southeast Asian Nations (ASEAN) region is expected to increase residential electricity demand to 497.1TWh by 2040. This number is almost double the level of demand seen in 2017.
The goal of phase two of the ASEAN Plan of Action for Energy Cooperation (APAEC) 2021 – 2025 is to strive for a 35% share of renewable energy in installed capacity by 2025. This means they need to achieve the deployment of about 35-40 GW of renewable energy sources. The highest growth rate is expected to come from solar, with an annual growth rate of 10.4% from 2018 to 2040.
To achieve the above numbers, what are some of the region's strategies and strengths?
Vietnam takes lead in solar energy
According to British Energy Group consultants – Wood Mackenzie, the Southeast Asia region is expected to nearly triple its solar installed capacity to 35.8 GW by 2024.
The International Renewable Energy Association (IRENA) also states that Vietnam, Thailand, the Philippines, and Malaysia account for about 98% of the solar energy capacity in the region. In particular, Vietnam will rise to the top in 2020.
The Vietnam Electricity (EVN) reported that, in recent years, with the incentive mechanisms of the government, solar power in Vietnam has made a remarkable breakthrough. By the end of 2020, the total installed capacity of solar power nationwide has reached about 19,400 MWp (equivalent to 16,500 MW), accounting for about 25% of the total installed capacity of the national power system.
In comparison, Vietnam has surpassed Germany in the proportion of solar power in the source capacity structure (16,500/60,000 MW compared to 51,500/211,000 MW). Vietnam is now the leader in the ASEAN region in terms of total renewable electricity capacity (wind and solar).
Particularly, Vietnam's rooftop solar energy will have a breakthrough in 2020. As of December 31, 2020, more than 100,000 rooftop solar power projects have been connected to the power grid. The total installed capacity nearly reaches 9,300 MWp. In particular, there were more than 3,000 MW added with more than 10,000 projects in operation in just 3 days (from December 29 to December 31).
On November 15, 2020, Xuan Thien – Ea Sup Solar Power Plant officially started operating. This is the largest solar power plant in Southeast Asia. It has a total investment of more than VND 50,000 billion and a total design capacity of 2,000 MWac (equivalent to 2,800 MWp).
Floating solar panel trend
Some countries in the Southeast Asia region, like Indonesia, are looking to install floating solar panels to cope with monsoon floods. The most impressive thing about floating solar panels is their ability to withstand extreme weather conditions like storms, big waves, and strong winds.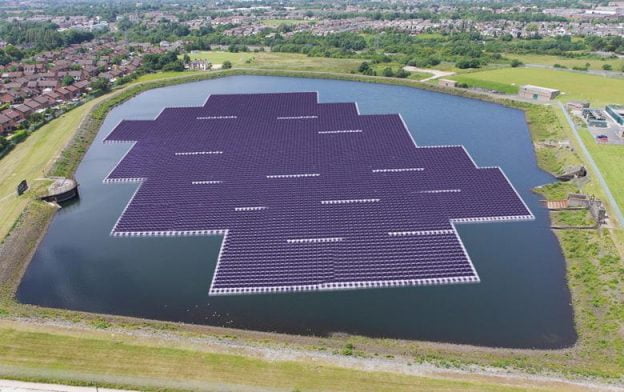 ASEAN floating solar energy capacity is growing rapidly, from only 1 MW in 2019 to hundreds of megawatts. It is all thanks to a series of big projects.
Vietnam has put a floating solar power plant on Da Mi Lake into operation since June 2019. The plant has a capacity of 47.5 MW and produced 74.18 million kWh in the first year.
Indonesia started a project in May 2021 to install a 145 MW floating solar farm at Cirata Hydroelectricity Lake in West Java. This is the biggest project in the region. It is expected to be completed and start running by the end of 2022.
In July 2021, a 60 MW floating solar energy farm was opened in Singapore. The Singapore government plans to quadruple its solar capacity by 2025. Floating solar panels are a solution for Singapore to increase its electric capacity while facing land shortage issues.
In Thailand, there are several planned projects with a capacity of 45 – 55 MW.
In Malaysia, after coming into operation in October 2020, the installation of 60 MW is the largest floating solar project in the country.
The Philippines also has plans for a 110 MW floating solar farm on Laguna Lake.
Alternative choice for hydropower
Till now, the renewable energy sector of Southeast Asia focused mainly on hydropower. Laos exports about half of the electricity it produces, mainly hydroelectricity. The Lao government plans to increase hydroelectricity production to turn Laos into "Asia's battery source".
Along with the diversification of hydropower, the Southeast Asia region is facing negative impacts from climate change, especially the risk of drought. While Laos is a net exporter of electricity, there are certain times of the year when they have to import electricity. To solve the above problem, the Lao government began to encourage the development of solar energy projects. More specific:
– The first solar project with a capacity of 76 MW, is expected to start operation in the fourth quarter of 2021. Vietnam's Wealth Power Group is working with Laos's domestic partners to build two solar farms, one with a capacity of 500 MW and the other with a capacity of 80 MW.
– Small-scale community solar projects are also booming in Laos, even in remote regions where the national power grid cannot reach yet.
Cambodia has suspended two hydroelectric projects due to low water levels. Cambodia's 10-year energy plan also focuses on installing solar energy alongside coal power plants. The country's government has approved plans for 300 MW of solar power and expects to add more capacity each year, starting in 2021.
New laws on renewable energy
Some Southeast Asian countries are in the process of amending and promulgating new laws to support the development of renewable energy, especially wind and solar energy.
Indonesia is planning to pass a new law, carbon tax, and FiT (fit in tariff) policy in 2021. The Indonesian government is aiming to increase renewable energy by 23% by 2025, compared with 9% in 2020, adding about 10 GW of capacity.
The Philippines is currently finalizing the National Renewable Energy Program. In the draft, the government aims to increase the share of renewable energy from 29% in 2019 to at least 35% by 2030, and over 50% by 2040. The Philippines has stopped the construction of new coal power plants since October 2020.
In Vietnam, the Government is outlining Power Plan VIII (period 2021 – 2030, vision to 2045), along with a new FiT for solar power and a plan to gradually eliminate coal-fired power plants.
Increasing large-scale project
As solar capacity in Southeast Asia begins to increase, governments in the region are moving towards larger-scale projects. Approximately 83% of solar projects operated in the region in 2021 are expected to have a large capacity of over 100 MW.
Vietnam's powerful solar development has proven the effectiveness of large-scale projects of around 500 MW.
In the Philippines, AC Energy bought the 120 MW Gigasol Alaminos solar project online in June. This is the second-largest solar installation project in the country. The project had added 183 MW of solar capacity earlier this year, and another 276 MW of renewable capacity under construction. In addition, Mitsui Company (Japan) is also working with an independent Philippine electricity producer, Global Business Power to build a 115 MW solar energy project in this country.
Source: Nang luong Viet Nam
.
.