Vietnamese cuisine is famous worldwide since it is both healthy and packed with flavor. The majority of dishes are full of nutrients having a variety of vegetables and meats combined with a staple such as rice or noodles. Delicious food is one of the top reasons why so many foreigners choose to retire in Vietnam. Some foreigners even open restaurants here since the Vietnam F&B industry is bombing.
While Vietnamese cuisine can be a fine dining experience such as Hue royal cuisine with delicate, meticulous decoration and presentation like a vivid picture to attract the diner, its top 10 most famous dishes are usually found at roadside eateries. Here are the top 10 best Vietnamese dishes that you need to try.
Pho
When talking about Vietnamese cuisine, the first Vietnamese dish will always be pho. Pho has been voted by CNN, BBC, Business Insider many times as one of the most delicious dishes in Asia. In 2016, according to the World Records Union – Wordkings, pho was one of the three Vietnamese dishes in the top 100 most delicious dishes in the world.
Pho also appears in many luxurious and high-class international restaurants as the representative of the most quintessential of Vietnamese cuisine. A bowl of pho will have the sweetness of the broth simmered from pork bones, beef bones, combined with soft rice noodles, cooked beef, and a little finely chopped cilantro to enhance the flavor.
●
Price:
30.000 – 60.000 VND
●
Most famous place to enjoy:
Hanoi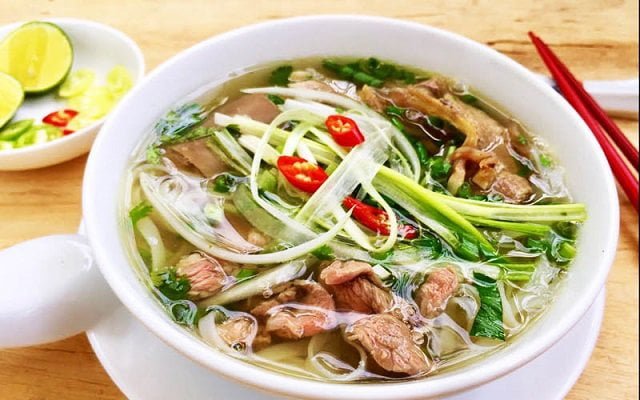 Banh my
This popular Vietnamese dish has been praised by many international newspapers such as The Guardian, National Geographic, BBC, or Tripadvisor. In the 2016 Fodor's Travel list of top 20 of the world's most delicious street foods, Vietnamese banh mi topped the list.
Banh my can have a lot of filling combinations depending on your personal choice, but the most popular is bread with grilled pork, cucumber, raw vegetables, pickles, pate, and sauce.
●
Price:
15.000 – 25.000 VND
●
Most famous place to enjoy:
each region has different types of filling, but Ho Chi Minh City's banh my is well-loved by foreigners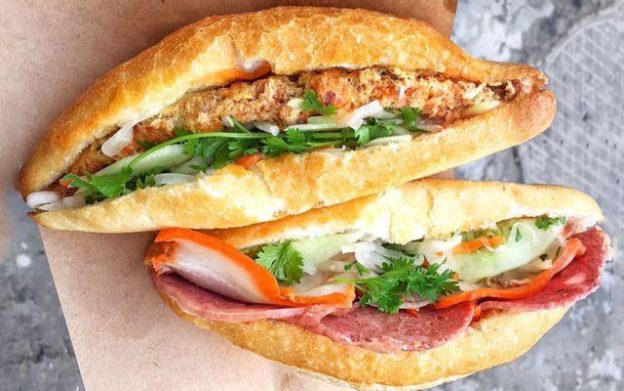 .
Bun cha
CNN's top 10 summer delicacies, National Geographic's top 10 best street foods in the world… are titles achieved by Vietnamese bun cha. However, it became super famous and well-known after former US President Barack Obama enjoyed it with chef Anthony Bourdain at Le Van Huu, Hanoi.
Bun cha is full of flavors incorporating spicy, sour, salty and sweet. This Vietnamese dish is a harmonious combination between smoky grilled pork and delicate vermicelli, eaten with raw vegetables and sweet and sour sauce.
●
Price:
30.000 – 50.000 VND
●
Most famous place to enjoy:
Hanoi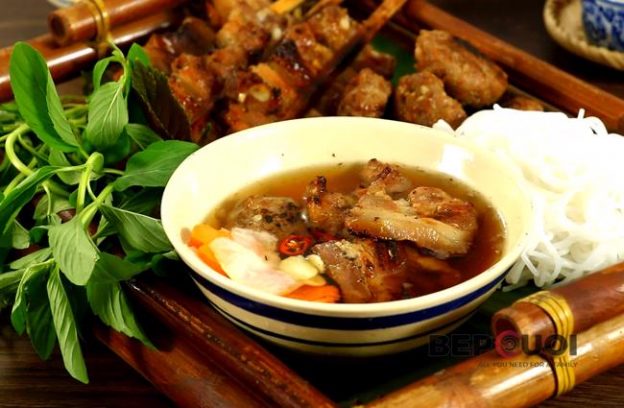 .
Goi cuon (fresh spring roll)
This is one of two Vietnamese dishes featured in CNN's list of the 50 most delicious dishes in the world in 2011. Later, many travel sites such as Roughguides also list fresh spring rolls in their recommendation list.
Fresh spring roll includes green vegetables, minced pork, shrimp, or crab rolled with rice paper, dipped in sweet and sour sauce. Some places also serve it with a bowl of lettuce or basil leaves. The dish is truly delicious with an appealing look, making it very popular with foreigners.
●
Price:
50.000 – 70.000 VND
●
Most famous place to enjoy:
Southern region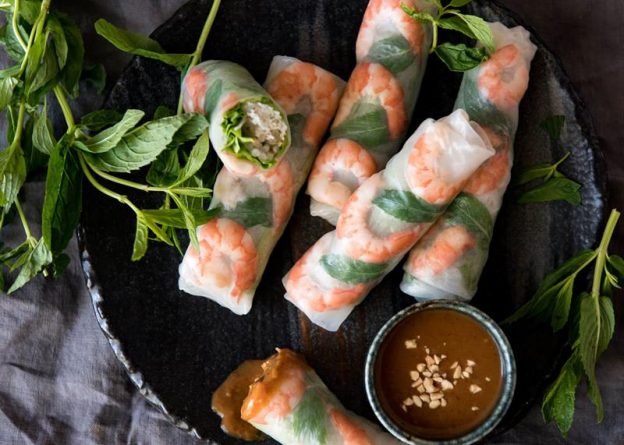 .
Banh xeo
Banh xeo is one of the Vietnamese representatives participating in the 2016 World Street Food Congress (WSFC) held in Manila, Philippines. According to CNN, this is one of the top favorite street foods in the world in 2016 and continues to be a popular dish in 2017.
Banh xeo is a specialty of Vietnam's Southwest people but with a twist of Southern culinary culture. The yellow crispy crust is most delicious when cooked in a clay mold on a firewood stove. Banh xeo usually has shrimp or pork fillings with bean sprouts, served with fresh vegetables and a fish dipping sauce.
●
Price:
50.000 – 100.000 VND
●
Most famous place to enjoy:
Central and southern regions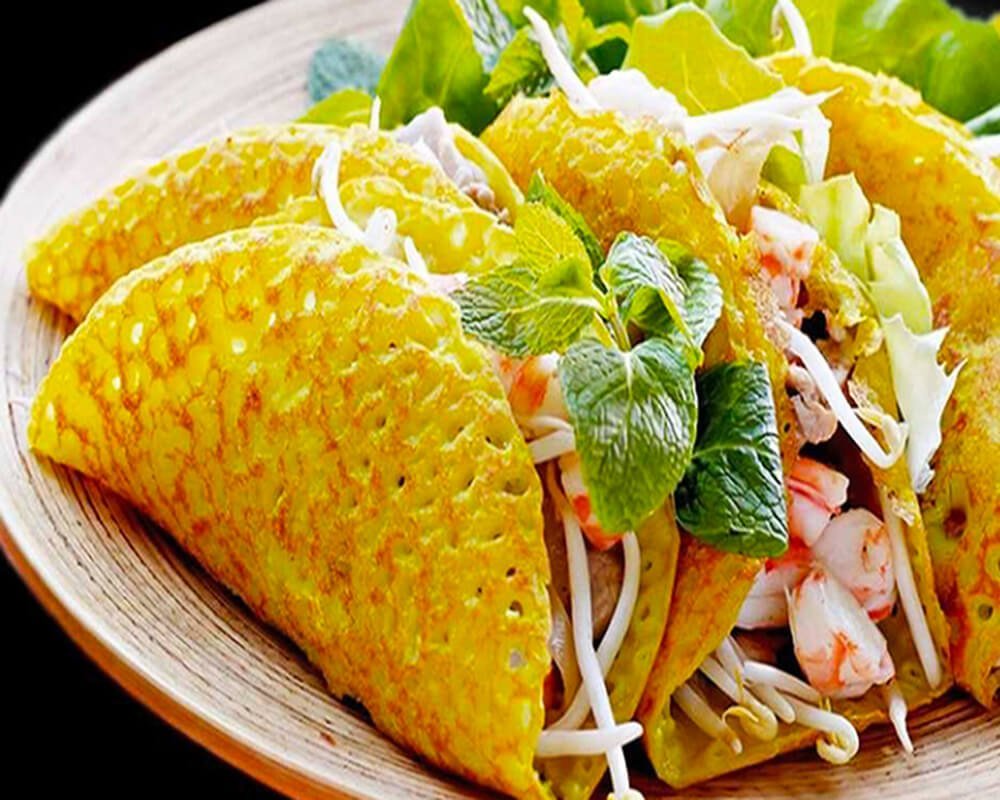 .
Bun bo Hue
In an episode of "Anthony Bourdain: Parts Unknown" broadcast on CNN, the famous American chef commented, "Bun bo Hue is the best soup in the world". The Asian Record Organization (ARO) has also put bun bo Hue in the top 100 delicious Asian dishes in 2016.
This famous Vietnamese dish originates in Hue – the ancient capital of Vietnam. Bun bo Hue has a sweet flavor from simmered pork and beef bones broth combined with a salty taste from fish sauce. The soup bowl has vermicelli, beef, and is topped with herbs. Original bun bo Hue also has a slightly spicy taste to it, a perfect combination for a rainy day.
●
Price:
50.000 – 60.000 VND
●
Most famous place to enjoy:
Hue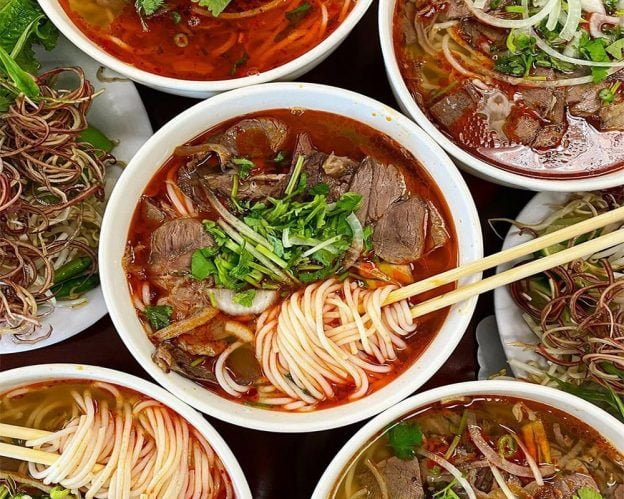 .
Com Tam (broken rice)
If Hanoi cuisine's signature is pho, then Saigon people are extremely proud of com Tam. Com Tam was voted by CNN as one of the 10 most attractive dishes in Saigon and was recognized by the Asian Record Organization.
This popular Vietnamese dish is very easy to find in Ho Chi Minh City, available at any time of the day. The soul of this dish is the thick, sweet fish sauce combined with broken rice with grilled ribs, egg rolls, and cabbage pickle. Depending on the restaurant, this dish can be served with omelets, steamed egg rolls, or fried chicken.
●
Price:
30.000 – 40.000 VND
●
Most famous place to enjoy:
Ho Chi Minh City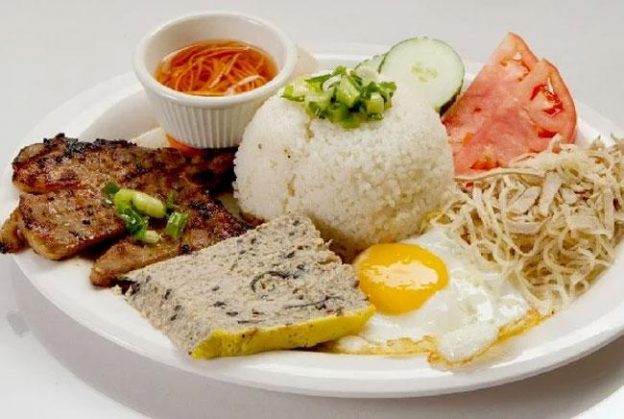 .
Bun rieu (crab noodle soup)
This Vietnamese dish is also in the top 20 most attractive Asian street foods voted by CNN. Bun rieu is a familiar dish in the Northern provinces. Although Southern people also eat bun rieu, Hanoi's version still has a more distinctive flavor.
The broth used to make bun rieu is made by cooking crab sticks, tomatoes with fish sauce. The dish evokes the taste of field crab, along with the sweet and sour taste. When serving, tofu, meatballs, and spring onion will be added to the bowl of vermicelli soup. You can enjoy it with raw vegetables or add a little shrimp paste to enrich the flavor.
●
Price:
30.000 – 40.000 VND
●
Most famous place to enjoy:
Hanoi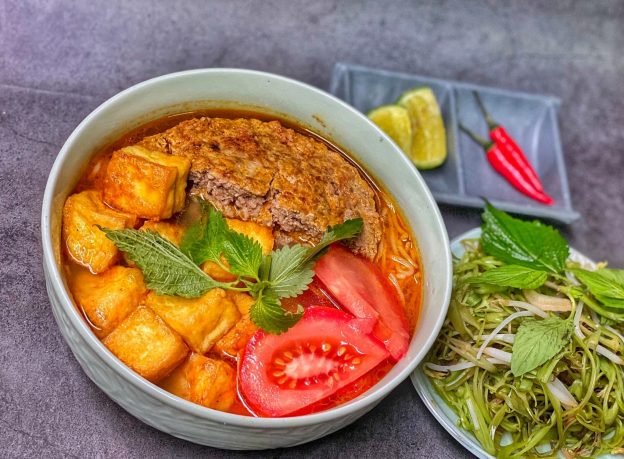 .
Cha ca (fish cake)
Cha ca is one of the signature dishes of Hanoi, which was once a street food for wealthy families in big cities. Cha ca is a dish made from fish, similar to meatballs but with fish instead. The most famous type is the La Vong fish cake. The origin of La Vong fish cake originates from Hanoi during the Indochina period.
La Vong fish cake has a relatively complicated way of preparing and cooking. Fresh lentils with a sweet taste, aromatic meat, and small bones will be thinly sliced, then marinated with esoteric spices (galangal, turmeric, pepper, fish sauce…). The fish must be soaked for two hours, then grilled on a red fire. When served, the fish cake will be stirred in the boiling fat until fragrant, then add dill and herbs and mix well.
●
Price:
100.000 – 200.000 VND
●
Most famous place to enjoy:
Hanoi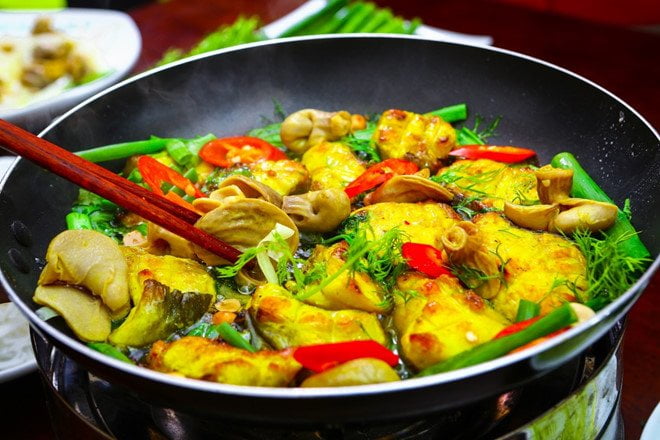 Banh cuon
Banh cuon is also one of the oldest Vietnamese traditional dishes. Banh cuon is thin rice rolled stuffed with minced pork, mushroom, and fried shallot. When finished, banh cuon will be placed on a plate, sprinkled with more fried shallot, eaten with fresh vegetables, pork sausages, and dipped in fish sauce. Today, banh cuon is still a typical dish in the North, especially in Hanoi, in which, banh cuon Thanh Tri is the most famous.
●
Price:
15.000 – 30.000 VND
●
Most famous place to enjoy:
Hanoi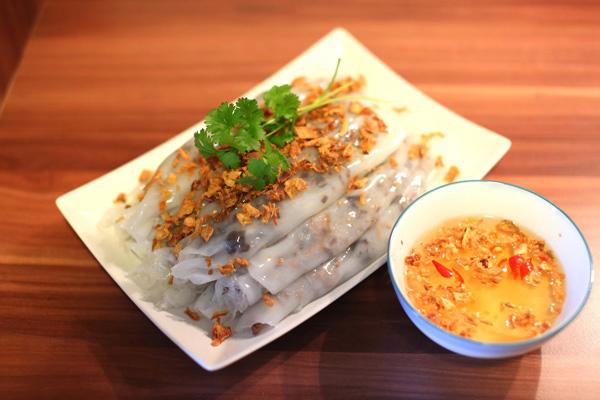 .
.
.
.
.