Vietnam is a small country but has a large number of amazing landscapes and seascapes that ranked high on many "top places to visit" lists globally. Vietnam has a rich culture, stunning scenery, delicious foods, lots of things to do, and most importantly, friendly people.
Vietnam is very diverse and each city and province has completely different things to offer. It's a perfect place for retirement. 
So, what are the best places to retire in Vietnam?
Before we begin, we have another two articles specially written for retirees which are how to retire in Vietnam and healthcare in Vietnam, make sure to check it out!
Without further ado, here are our top 5 best places to retire in Vietnam.
Hanoi
Top 1 in our list of best places to retire in Vietnam is Hanoi.
Hanoi is the biggest city and also the capital of Vietnam. It offers French-colonial architecture, a rich food culture, many interesting cultural sites, in short, a marvelous place to explore.
Hanoi has a large community of expats, around 10,000 foreigners. Most expats choose to live in the West Lake District (Tay Ho), located in the northern part of Hanoi. West Lake is a high-end residential neighborhood with a diverse range of boutiques, restaurants, and bistros. Hoan Kiem district, which is the center of Hanoi, is a hot spot for foreigners as well.
Weather
Hanoi has four distinct seasons: Spring, Summer, Autumn, Winter. Temperature-wise, Hanoi has five months of cool to cold weather, and seven months of warm and hot weather.
Attractions
–
Old Quarter: a perfect place for wandering around, includes 36 old commercial streets which are named after their original businesses dating back about 1,000 years.
–
Hoan Kiem Lake: a beautiful lake in the city center and is a historic heart of Hanoi.
–
Museums: Hoa Lo Prison Museum, Ho Chi Minh Museum, Military Museum, Vietnam Fine Arts Museum, Vietnam Women's Museum, Vietnam Museum of Ethnology, etc.
–
Theaters: Hanoi Opera House, Vietnam National Tuong Theater, Thang Long Water Puppet Theater, etc.
–
Traditional craft villages: Bat Trang pottery village, Van Phuc silk village, Quat Dong embroidery village, etc
–
Others: Ba Vi National Park, Hanoi St. Joseph's Cathedral, etc
Pros
–
Many traditional festivals year-round
–
Hanoi's famous for its infusion of both local and international cuisine.
–
A gateway to other places: 8 highway routes, 6 railway lines, international and domestic airports
Cons
–
Relatively h
igh cost of living compared to other places in Vietnam
–
Pollution/Environmental issues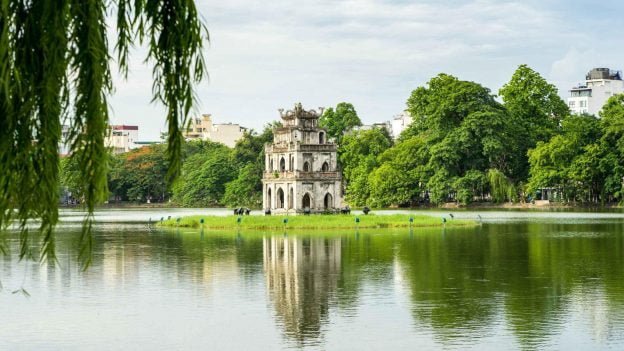 Ho Chi Minh City
The second best place to retire in Vietnam is Ho Chi Minh City.
Ho Chi Minh City is an economic center of Vietnam, located in the South, and is commonly known as Saigon. Ho Chi Minh City is a modern and fast-paced city with many entertainment places. This city is full of French colonial mansions and offers the best shopping and nightlife entertainment.
Most expats who come to Vietnam live in Ho Chi Minh City. The expat community here is really strong, with more than 100,000 foreigners working and living in the city. The majority of expats in Ho Chi Minh City live in District 2, more specifically, the Thao Dien neighborhood. This expensive neighborhood is known for having tons of restaurants, cafes, shops, and bars.
Weather
Ho Chi Minh City has a warm tropical climate. The dry season will start from November to April, and the rainy season is from May to October. The temperature is usually around 21 degrees Celsius to 34 degrees Celsius. However, on the hottest day, the outside temperature can go up to over 40 Celsius degrees.
Attractions
–
Shopping centers: Vincom Center, Saigon Square, Takashimaya Vietnam, Diamond Plaza, etc
–
Tourist places: Notre Dame Cathedral, Ben Thanh Market, Ho Chi Minh City post office, Saigon Opera House, etc
–
Cultural
place
s
: Reunification Palace, Vietnam History Museum, Ho Chi Minh Museum, Nha Rong Wharf, Southern Women's Museum, etc
–
Entertainments: Suoi Tien Park, Dam Sen Amusement Park, Bui Vien Street, Nguyen Hue Walking Street, Landmark 81, Nguyen Van Binh Book Street, etc
Pros
–
A modern city with lots of conveniences
Cons
–
Has the most expensive living cost in Vietnam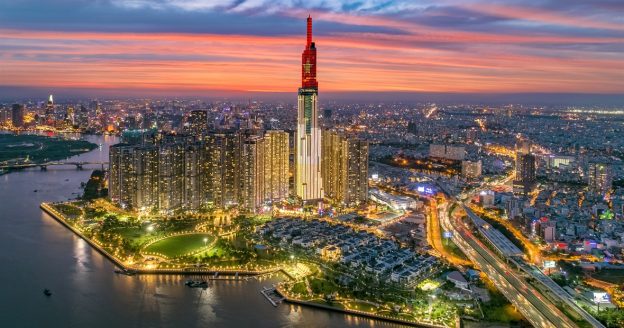 Da Nang
The next destination in the list of best places to retire in Vietnam is Da Nang.
Da Nang is the largest city in central Vietnam, located on the north-central coast. Da Nang – a city of bridges – is like two cities itself. The Han River runs right through the middle of it, dividing the city into two parts. On one side, you have a cosmopolitan city with shopping malls and a hustle, bustle lifestyle. On the other side of the river, on the east side, is a more laid-back lifestyle with the beach community.
Most retirees choose to live on the East side of Da Nang – the beachside (to find property/houses and apartments for rent in Da Nang, check out this website). The expat community in Da Nang may not be as strong as in Hanoi or Ho Chi Minh City, but it is growing rapidly with lots of digital nomads.
Da Nang is perfect the best place to retire in Vietnam for someone who prefers a more laid-back lifestyle but still wants urban conveniences. Besides, it only takes around 40 mins drive to go to Hoi An ancient town, which is a World heritage recognized by UNESCO.
Weather
Da Nang has a tropical monsoon climate, with mild temperatures throughout the year. The rainy season starts from September to March, and the dry season starts from April to August. Temperature year-round will be ranging from 18 degrees Celsius to 34 degrees Celsius.
Attractions
–
Beaches: My An Beach, My Khe Beach, Tien Sa Beach, Bai Bac Beach, Non Nuoc Beach, etc
–
Mountains: Marble Mountain, Son Tra (Monkey) Mountain
–
Tourist places: Dragon Bridge, Hai Van Pass, Cham Museum, Da Nang Cathedral, Lady Buddha, Golden Bridge, etc
–
Others: Hoi An, Ba Na Hills, golf courses, Bac My An Market, Con Market, etc
Pros
–
Has both natural beauty and urban comforts
Cons
–
Maybe too touristy in the summer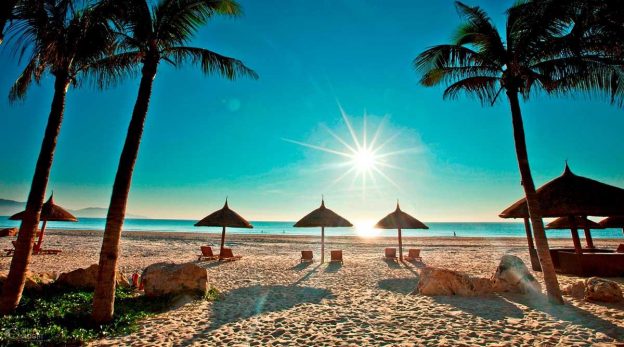 Da Lat
When mentioning the best places to retire in Vietnam, Da Lat is always on the list.
Da Lat is the capital of Lam Dong Province and the largest city of the Central Highlands of Vietnam. Da Lat is a chilly city with French-influenced architecture. Even though it is an urban city and a tourist hot spot in Vietnam, Da Lat still has a lower, more relaxed pace of life.
Da Lat is famous for its fresh products like coffee, avocado, and all kinds of vegetables. Da Lat is like a city of love in Vietnam, with flowers everywhere. It is surrounded by mountains, waterfalls, and pine forests. The chill and romantic aura make it a perfect place to retire in Vietnam with your lovers. The Da Lat expats community is not so big but is still growing and the locals are very friendly toward foreigners. A large number of foreigners in Da Lat are French.
Weather
With the hilltop location, Da Lat enjoys a consistently mild and cool climate throughout the year. Da Lat also has two distinctive seasons: the dry season from November to March, and the rainy season from April to October.
However, there is a saying that you can experience all four seasons in one day in Da Lat. Early morning in Da Lat is chilly and sometimes has rain, the temperature will go up during the day and can get a little hot. The heat will then quickly fade away in the evening, and nights in Da Lat are cooler and chill. The temperature year-round is ranging from 20 degrees Celsius to 32 degrees Celsius.
Attractions
–
Natural
spot
s: Datanla Waterfall, the Lake of Sighs, Xuan Huong Lake, Elephant Fall, Pongour Fall, Prenn Fall,
Bidou
Niu
Ba National Park, etc
–
Tourist
place
s: Da Lat Flower Gardens, Crazy House, Da Lat Train Station, French Quarter, Valley of Love, etc
–
Others: Da Lat market, Lat Village, Da Lat Cathedral, Lam Dong Museum, Truc Lam Pagoda, Linh Phuoc Pagoda, Lam Ty Ni Pagoda, Linh Son Pagoda, Thien Vuong Pagoda, etc
Pros
Cons
–
Unpredictable and foggy weather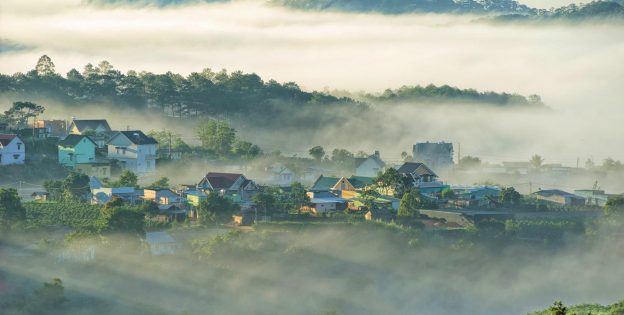 Phu Quoc
Lastly, Phu Quoc is one of the best places to retire in Vietnam.
Phu Quoc, located in the Gulf of Thailand, is the largest island in Vietnam. Phu Quoc is still a rustic area with only a few bars, a market, and some restaurants. If you want to enjoy a simple life, stay away from the big and bustling cities, lying on the beach all day then Phu Quoc is a perfect place for you to retire in Vietnam.
The expat community on Phu Quoc is only around 300 people and they mostly stay in Duong Dong. There are many smaller islands in the area that are perfect for snorkeling, diving, and kite surfing. Phu Quoc's primary industries include fishing, agriculture, and tourism. Therefore, to some people, Phu Quoc may seem a bit touristy.
Weather
Phu Quoc also has only two seasons: dry and rainy seasons. The rainy season starts from April to November while the dry season lasts from December to March. The average temperature in Phu Quoc ranges between 22 degrees Celsius to 33 degrees Celsius across all seasons.
Attractions
–
Natural spots: Ganh Dau Beach, Ong Lang Beach, Rach Tram Beach, Rach Bem Beach, Sao Beach, Duong Dong Harbour, Ong Doi Cape, Bai Vong Bay, Ham Ninh Village, and Pier, National Park, Da Ban Spring, etc
–
Tourist places: Pearl Farms, Fish sauce factory, Night Market, Ham Ninh Fishing Village, Rach Vem Fishing Village, Safari Phu Quoc, Corona Casino, etc
Pros
–
Chill, slow pace of life
Cons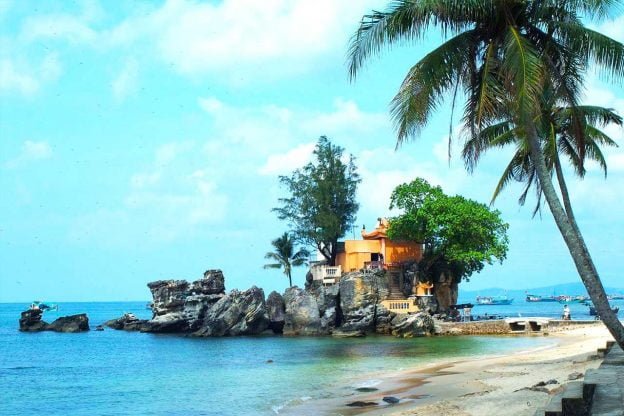 Conclusion
So, what do you think about these 5 best places to retire in Vietnam?
Vietnam offers many great places for retirees, depending on what you want. If you are the type who enjoys city life and modern comforts, then Hanoi and Ho Chi Minh City are perfect places to retire in Vietnam. On the other hand, if you want a more laid-back life and love nature, then Da Lat and Phu Quoc are very suitable. Last but not least, Da Nang can give you both a busy life and a simple life when you choose to retire in Vietnam.
.