1, Virtual offices in Vietnam
1.1, What is a virtual office?
A virtual office is indeed virtual, which means it has zero space for you to use. The main benefit is that someone intending to open a company in Vietnam does not need to lease an office and can keep a low budget by renting a virtual office only. It is a legal requirement in Vietnam that a business has a registered address, and this must be done during the set-up of the business.
Things that will be included in a virtual office are the registered address, fax number, telephone number, tax report, signboard, and receptionist for local or foreign companies desiring to maintain a professional presence in a country or one or more cities.
The virtual office is a widespread service that has been applied to business environments for a long time all over the world. However, this rental service is quite new in Vietnam. Moreover, instead of hiring permanent employees, virtual offices will provide staff for the customers to receive emails, faxes, as well as related documents and answer the phone as the company's secretary and then send them to the business owner.
This type of service model brings many long-term benefits to businesses today. Firstly, the cost of renting a virtual office is significantly lower in comparison with a traditional office. Secondly, a virtual office can be seen as a faster entry to Vietnam as it will save you a lot of time in searching for a physical office.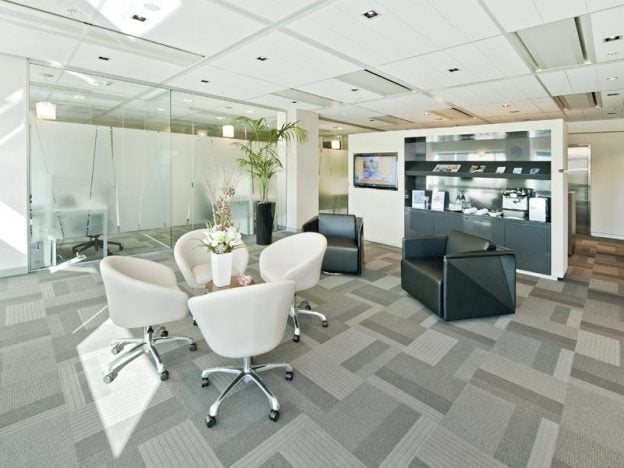 1.2, Is the virtual office allowed in Vietnam?
The Vietnamese Law on Enterprises of 2020 says the following about a company's headquarters: "the enterprise's headquarters shall be located within Vietnam's territory, [and it] is the enterprise's mailing address, has a phone number, fax number and email address (if any)."
It does not say whether those headquarters or any other branch offices and/or business locations, must be physical offices or not. That leaves the possibility open for company owners to register their headquarters at a virtual office in Vietnam. However, it does not mean that all the local Investment Authorities around Vietnam encourage it, or even allow it.
In Da Nang and Hoi An, for example, the Authorities do not always allow for it. On a case by case basis, they do check whether (especially foreign-owned) companies have a physical office with real business activity.
In Ho Chi Minh City and Ha Noi, on the other hand, the local Investment Authorities are much more lenient with the use of virtual offices. So even though Vietnamese Law does not seem to explicitly prohibit the use of a virtual office in Vietnam, in practice it depends to a great extent on which local Authority is in charge.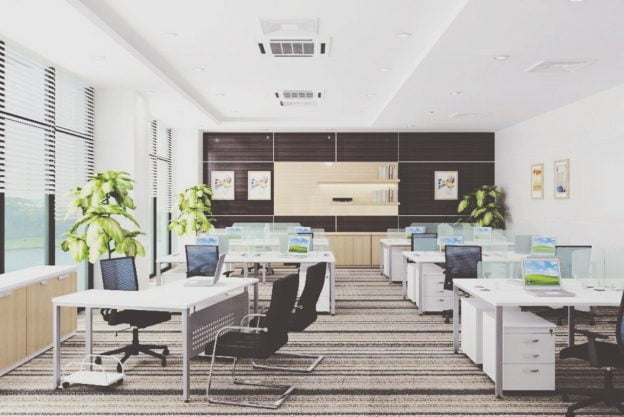 2, Virtual office in Vietnam
2.1, Virtual office in Ho Chi Minh City
2.1.1, Replus virtual office service
Contact information
Headquarter: Vincom Center Building, 72 Le Thanh Ton, Ben Nghe Ward, District 1, HCMC
Branch 1: Floor 10 & 24, Pearl Plaza Building, 561A Dien Bien Phu, Ward 25, Binh Thanh District, HCMC
Branch 2: O8 Building, Van Phuc Urban Area, Hiep Binh Phuoc Ward, Thu Duc District, HCMC
Branch 3: C10 Rio Vista, 72 Duong Dinh Hoi, P. Phuoc Long B, District 9, HCMC
Email: info@replus.com.vn
Hotline: 0932 678 626 – 028 6228 3088
About Replus
Google rating: 4.0 stars
Replus is known as the first-rate brand of all-in office service with support services for enterprises in the country as well as the ASEAN region. It consists of 4 addresses in this city center and provides the customer with practical benefits.
Replus owns a large, luxurious reception and seating area, a comfortable and well-equipped meeting room with free use of full devices such as a flip chart, air conditioning, printer, scanner LCD screen, copier pen, and paper, and so on.
In addition, the brand also provides security services for their buildings 24/24, a telephone line with a fax number and voicemail operating 24/24, and high-speed wifi internet, … Especially, well-trained receptionists who use foreign languages fluently can handle all works as professionally as possible.
Therefore, this can be considered an effective choice for businesses looking for a virtual office in Ho Chi Minh city.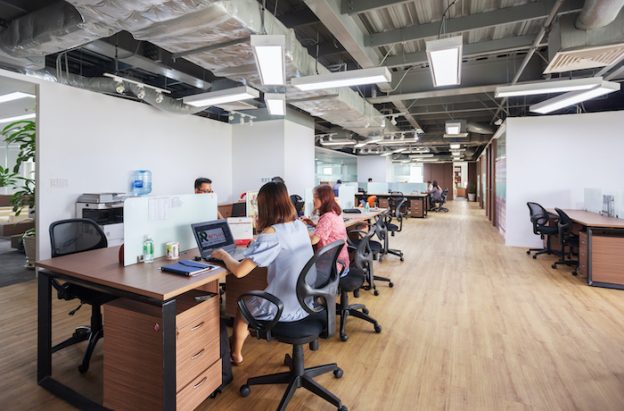 2.1.2, eSmart virtual office service
Contact information
Branch 2: 412, Nguyen Thi Minh Khai, District 3, HCMC
Branch 3: 52, Dong Du, District 1, HCMC
Branch 4: 106, Nguyen Van Troi, Phu Nhuan District, HCMC
Phone: 0936 360 888
Website: https://esmart.vn
About eSmart
Google rating: 5.0 stars
eSmart is known as a perfect choice for small and medium enterprises, especially startups. With a special mission of accompanying their customers, eSmart is not merely to provide office services, but also to accompany startups to get through the initial difficult times.
It not only provides the customers with modern and professional offices full of essential facilities including seating areas, meeting rooms, working seats, and pantries but also helps the customers experience the best working environment with super cost savings for customers.
Moreover, when renting a virtual office service at eSmart, the customers will be supported with issues related to start-ups including business registration, tax accounting, and brand identity design. Besides, being located in the city center is a huge plus helping businesses in any transactions.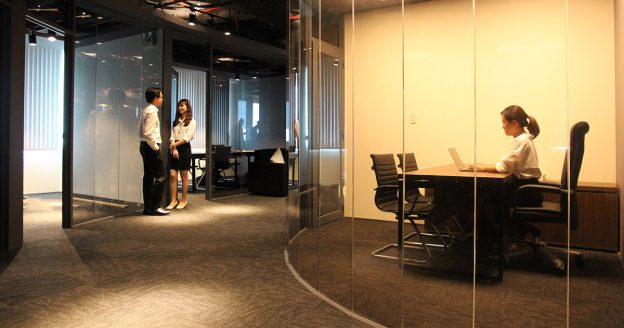 2.2, Virtual office services in Hanoi
2.2.1, Regus virtual office service
Contact information
Branch 1: 13th Floor, Hanoi Tower, 49 Hai Ba Trung, Hoan Kiem District, Hanoi
Branch 2: 16th floor, Daeha Business Center, 360 Kim Ma, Ba Dinh, Hanoi
Branch 3: 5th Floor, Sentinel Place Building, 41A Ly Thai To, Hoan Kiem, Hanoi
Branch 4: Floor 4-6, 59A Ly Thai To, Hoan Kiem, Hanoi.
Hotline: (+84) 28 3823 6280
Website: regus.com.vn
About Regus
Regus is rated as one of the best virtual offices in Vietnam. Currently, Regus operates around 2300 office centers in over 100 countries all over the world and the headquarters is located in Luxembourg City, Luxembourg.
It provides the customers with an all-in office rental service and its virtual office in Vietnam has three service packages including business address, virtual offices, and virtual office plus. With the first option for renting virtual offices, a business address allows the customers to establish their professional business address in a prime location and use it on their official documents.
The virtual offices will help the customers build an instant presence at more than thousands of prime business locations and allow them to use globe business lounges. Besides, this option will provide the customers with professional staff to answer the company's phones or emails when renting a virtual office in Vietnam.
Lastly, the virtual office plus is considered the most comprehensive package of Regus virtual office in Vietnam with the workplace and all services allowing the use of a business lounge network, meeting room, five-day desk space, or office per month.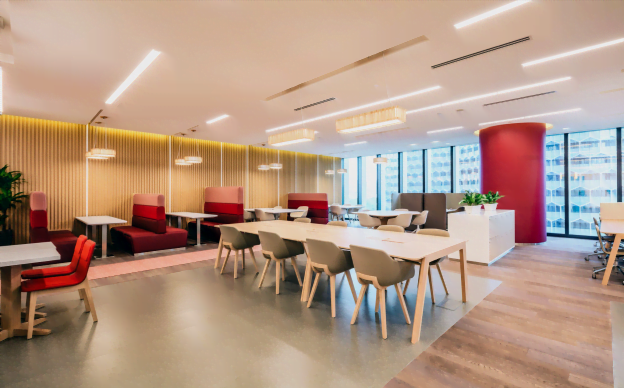 2.2.2, AF Office virtual office service
Contact information
Address: AF Office Building, No. 87 Vuong Thua Vu, Thanh Xuan District, Hanoi
Hotline: 0901 705 333 – 097 649 6295
Email: contact@afoffice.vn
Website: afoffice.vn
About AF Office
Google rating: 5.0 stars
AF Office is considered one of the most prestigious addresses for renting a virtual office in Vietnam today. Launched in 2015, so far it has obtained many great achievements and gotten a foothold in the office rental service market.
Its target market is small and medium-sized businesses as well as start-ups with limited investment capital. To please the customers, the brand always invests in the infrastructure and builds a team of professional staff to meet the customers' demands.
With a long-term and sustainable development orientation, renting virtual offices in Vietnam at AF Office will bring the customers a comfortable business ecosystem and enjoyable work experience. Therefore, if you are looking for a virtual office in Vietnam for your enterprise, this can be a perfect option to build and develop your business professionally.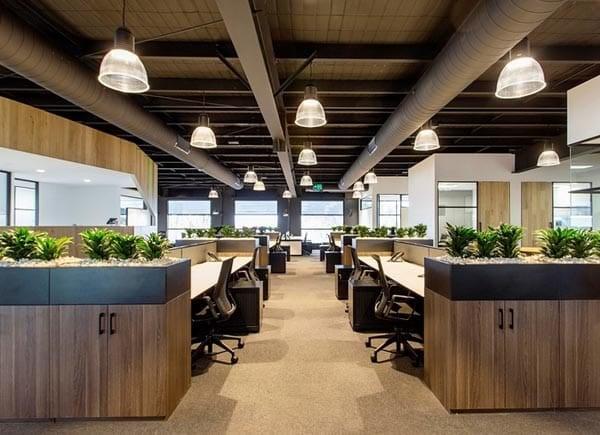 2.2.3, Open World Vietnam virtual office service
Contact information
Address: Floor 21, Capital Tower, 109 Tran Hung Dao, Cua Nam Ward, Hoan Kiem District, Hanoi.
Hotline: 0968 426 426
Email: info@openworldvietnam.com
Website: openworldvietnam.com
About Open World Vietnam
Google rating: 5.0 stars
Open World Vietnam is located in the heart of Hoan Kiem District of Hanoi, it is evaluated as a quality and reputable virtual office in Vietnam with the most prime location.
Like virtual office services at other companies, renting offices at Open World Vietnam allows the customers to experience a full of services such as meeting rooms, mail, and phone receiving and answering, reception, switchboard system, and so on.
However, the cost of renting virtual offices in Vietnam at Open World Vietnam is quite high in comparison with other companies due to its prime location.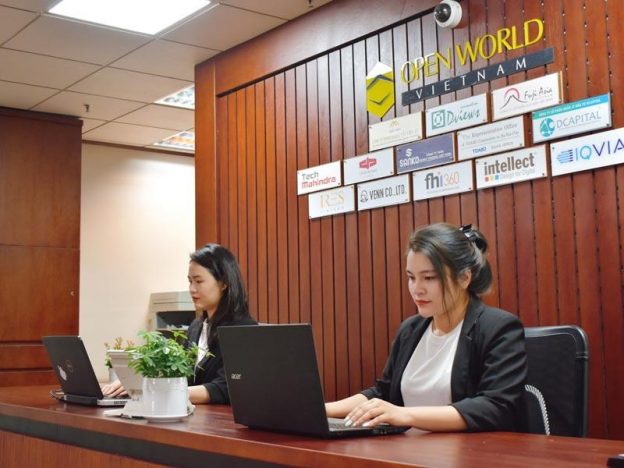 2.3, Virtual office services in Da Nang
2.3.1, Enouvo Space virtual office service
Contact information
About Enouvo Space
Google rating: 4.8 stars
Enouvo Space is known as the best optimal choice of virtual office in Vietnam for SMEs and Startups in Da Nang.
Enouvo Space owns well-trained receptionists to help the customers quickly receive and answer phone calls and postal packages without paying any additional fees for using standard extra services and saving time hiring or training qualified employees.
Especially, owning Enouvo Space and Enouvo Cafe in the same building allows the customers to enjoy a private and comfortable space for meetings. Furthermore, one of the reasons why Enouvo Space attracts businesses is its reasonable price.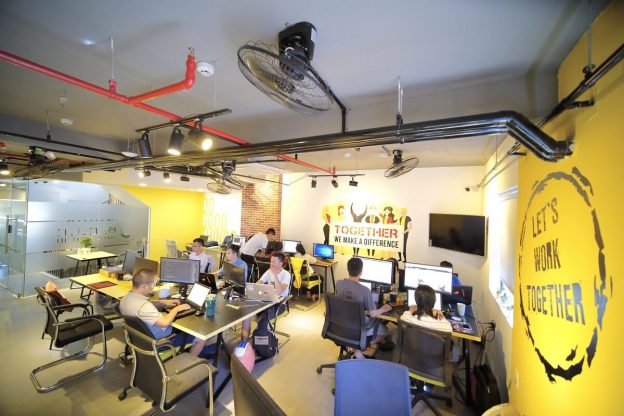 2.3.2, The Embassy virtual office service
Contact information
Head office: 83 Tran Phu, Hai Chau, Da Nang
Hotline: (+84) 989542018
Email: theembassydanang@gmail.com
About The Embassy
Google rating: 5.0 stars
The Embassy coworking space provides qualified virtual offices for the customers in Da Nang. Thanks to its advantages in price and geographical location, The Embassy always makes a strong impression on its customers and attracts many enterprises to experience and build their businesses at a low cost.
Like other virtual offices in Vietnam, the customers will be allowed to experience services such as using the address to establish a Business License, staff for receiving and answering phone calls, emails and using meeting rooms within a limited time as well as some of the devices including photocopier, scanner, printer, video recording equipment, dual or single monitors, projectors, professional lighting equipment,…
Besides, when renting virtual offices at The Embassy, you will receive many attractive vouchers to enjoy food and drinks at their cafes or restaurants.
With all our useful information about virtual offices in Vietnam provided above, we hope you will have a thorough grasp of virtual offices in the country and find the right service address to build, run and develop your business professionally and sustainably.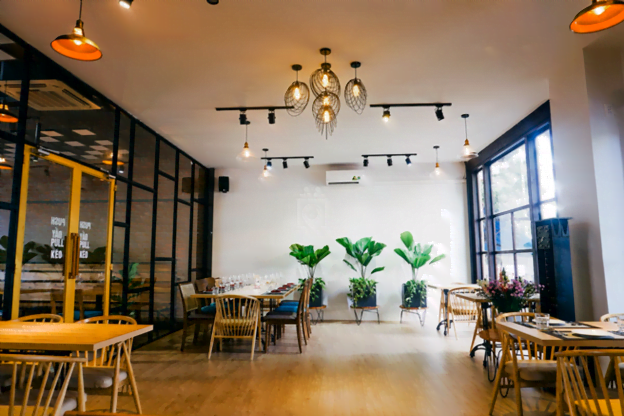 FAQs
How does a virtual office work?
A virtual office can be simply rented on a subscription basis with easy monthly payments. Because flexible workspace operators provide virtual office systems, packages are personalized to each customer and rented on a month-to-month basis for maximum flexibility and cost. When you sign up for a virtual office package, the business' address, phone number as well as support services will be utilizable immediately.
What does a virtual office consist of?
Depending on the needs and budget of each business, virtual offices will be personalized into many different packages. Generally, a basic virtual office consists of the following services:
A company address for your website and marketing materials.
A mail-handling service that scans, collects, and forwards your correspondence.
A local phone number with a receptionist to accept calls and take messages.
A secretarial support team provides ad-hoc services.
A membership portal provides access to a global network of enterprises.
Who needs to use a virtual office?
A virtual office is ideal for anyone who needs a company address but is unable to relocate physically, especially entrepreneurs, start-ups, and small firms who cannot afford to rent physical office space but want to improve their brand image. Furthermore, with the business services included in your virtual office package, you won't be worried about admin support, phone answering, or mail processing because these tasks are handled for you. A virtual office is considered an inexpensive method to expand your business. It is frequently utilized as a stepping stone toward acquiring a real office in the future. In short, a virtual office might be a good alternative.
Costs of starting a business in Vietnam