Sourcing in Vietnam is an ideal business opportunity. There is a huge potential for sourcing in Vietnam due to its young labor force and rich natural resources.
So, let us guide you through some key factors to consider before you do your sourcing in Vietnam.
What is the key information of sourcing in Vietnam?
Vietnam with an area of about 331,200 km2 is located on the Easternmost part of the Indochinese peninsula, in Southeast Asia. The country has a population of roughly 98 million people, living in the 3 areas namely the North, the center, and the South, each with different natural conditions.
Ho Chi Minh City located in the South of Vietnam is considered Vietnam's economic hub, Da Nang is the biggest city in the central area, while Hanoi is the political center of Vietnam.
In less than 25 years, economic reforms have altered Vietnam from one of the World's lowest-income countries to a lower-middle-income country. The "Doi Moi reforms" in 1986 changed the centrally planned economy into a market-oriented economy that is more integrated with the World.
Land use rights were granted; customs tariffs were instituted; and the establishment of private firms was supported, along with the removal of most quotas. Subsequent reforms have sought to open the trade even more, including by reducing tariff and non-tariff barriers on im-export.
The country's top exports in machinery, garments and textiles, footwear and headwear, food and beverage, and metals in recent years come from foreign-invested manufacturers or big firms. It means that those items could not be sourced from local medium and small-sized manufacturers, who are largely reliant on imported raw materials and request higher minimum orders.
Let's look at some key factors about sourcing in Vietnam to consider before you source your product(s) here.

.
What is the future potential for sourcing in Vietnam?
Vietnam has so much potential for sourcing because of the comparative advantage of its young labor force and its natural resources. The natural resources are quite suitable for the expansion of manufacturing capacity that can replace imports and capture overseas markets for processed agricultural products, wood, leather goods, handicrafts, and garments.
Vietnam's greatest asset, however, is its workforce, whose productivity in foreign-invested or generally in well-managed companies is comparatively high, while it is rather low in local ones.
While sourcing in Vietnam, Vietnamese manufacturers are targeted, however, they might be newly established or inexperienced with the marketing, exporting skills despite the fact that they are eager to work with new clients.
For example, an aluminum pipe breather is a simple part that could be produced by a local Vietnamese mechanic company at the selling price 15-20% lower than a foreign-invested one in the same city, however, working with the Vietnamese partner takes the customer at least 45 days from the quotation to production then delivery while the lead time for their counterpart is about 3 weeks.
The longer time comes from the slow cost calculation, longer internal communication, production procedure set-up, and export laws update. These factors are the main reasons for the Vietnamese manufacturers to lose numerous business chances from the foreign clients who turn to Vietnam as a substitute for China.
Another key consideration about sourcing in Vietnam is equipment and tooling. There are few Vietnamese injections and molding manufacturers who are qualified to design and manufacture molds of high quality at a reasonable price. Low academic qualifications and insufficient capital are factors that contribute to this matter when sourcing in Vietnam.
.
Wages in Vietnam
For your information: Vietnam's monthly minimum wages in 2020 varied by region, from VND 4.18 million to VND 4.42 million, with the highest rates in urban areas like Ho Chi Minh City and Hanoi.
.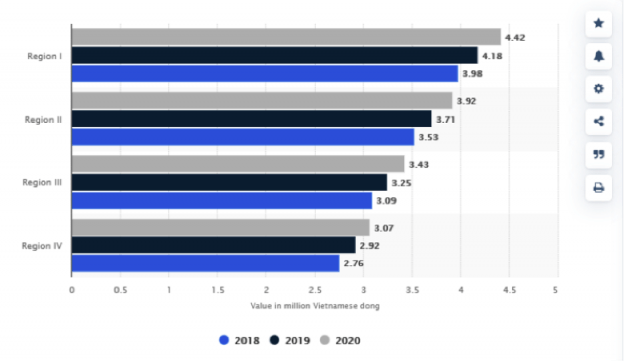 And Vietnam's minimum wage growth is showing signs of stability. It is rising faster than other Asian countries but remains low in comparison. The minimum wage increase in 2020 was higher than the 5.3% in 2019 but still lower than that in 2018.
.
Manufacturing salaries
Below is the manufacturing salaries chart by country in 2020. It shows no surprise that Vietnam's low labor cost is one of its most attractive features. By comparison, China manufacturing salaries are recorded at $968/month; while they are $766/month in Malaysia and $431 in Thailand.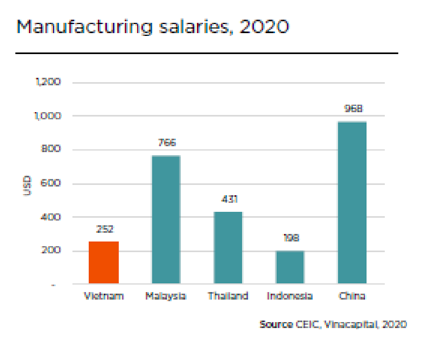 Costs of machinery and materials
Another important consideration about sourcing in Vietnam is the cost of machinery and materials for industrial production. High-tech, molded plastic parts, fabric, and electrical components are still often imported by Vietnam for production.
Vietnamese manufacturers rely on foreign inputs for production across a variety of industries, such as electrics, footwear, garment & textiles, etc. Imported materials or components usually increase your price per product unit, not to mention the high minimum order quantity. It leads to unstable selling prices and unfavorable trade terms when sourcing in Vietnam.
The infrastructure quality in Vietnam is still lower compared to regional countries. Vietnam begins a major upgrade in its transport infrastructure in order to improve the transportation of freight as well as to assist the development of logistics services.
At present, logistics firms in the country are generally small or medium‑sized, with the capacity to provide only basic services. However, logistics services such as production transport, sea‑air intermodal transportation, warehouse management, cold chain services, and inspection and quarantine are all in great demand to support the country's processing industries as well as food and aquaculture businesses.
By comparison, the logistics performance by Vietnam remains higher than Thailand and China in 2018, according to the World Bank logistics performance index, 2018.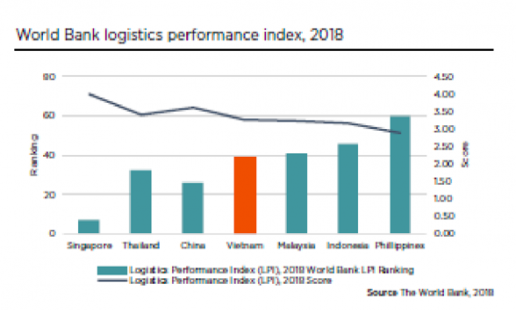 Vietnam has preferential trading agreements with 52 countries and 13 free trade agreements such as AFTA, A-JCEP, TPP, EVFTA, etc.
.
Vietnam's numbers of bilateral and multilateral Free Trade Agreements by the end of 2018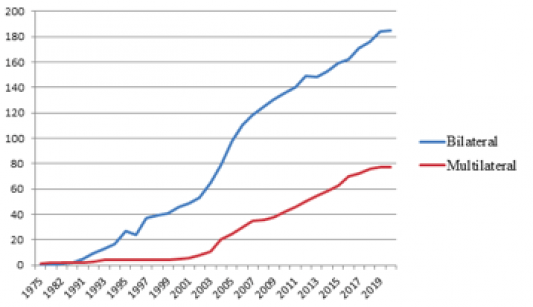 The global network will enable Vietnam to access more sourcing partners, allowing cheaper imports of inputs for production, which will boost the economic competitiveness and therefore benefit foreign clients with cost reduction and tariff elimination. Working with foreign companies also helps Vietnamese peers further improve their management, marketing skills as well as technology.
.
Q&A for sourcing in Vietnam
If you plan to source your product(s) in Vietnam, consider these key points:
1.

What can you expect when sourcing your product(s) in Vietnam?
Lower cost of labor on the one hand, but potentially lower quality products, and increased supplier risk.
2.

What kind of factors will be required for a stable supply chain?
What you need for stable sourcing is stable price and quality, reasonable production lead-time, transparent laws, and secured logistics. When sourcing in Vietnam, your above expectation could be met provided that you reach out to the right manufacturers who are experienced in both craftsmanship and business manner.
3.

Are local sources available for necessary components and materials for your product?
They may not be as easy to find or as quick to obtain as in other traditional markets, such as industrially produced products or hand-made items consisting of other accessories that are not Vietnam's strong ones.
4.

What partners can help you source the product and ensure the product(s) quality?
Seek help from a Vietnam sourcing agent, a prestigious consulting or an inspection company in Vietnam. They offer the best advice to you before you decide to move forward.
.