This is the ultimate guide to visas in Vietnam. In this article, we will include the ways to get visas, a list of the different types of visas, and also a detailed breakdown of each visa type.
Visas in Vietnam can be a little bit confusing, there is also quite a lot of contradicting information online so we hope this guide clears things up. Also, don't hesitate to ask us any questions if you have any.
Keep in mind that the visa regulations in Vietnam change regularly so we will try to keep this guide as updated as possible.
Ways to get a visa in Vietnam
The majority of international visitors to Vietnam for travel or business purposes need to apply for a visa except for those who enter Vietnam under visa exemption. It is easy for travellers to apply for a visa on arrival online or in person at the Vietnamese embassy or consulate.
Before visiting Vietnam, you should understand Vietnam visa requirements. There are two common types of Vietnam visa: Vietnam Electronic Visa (e-Visa); Vietnam Visa on Arrival.
Vietnam Electronic Visa (e-Visa)
The e-Visa takes three business working days to process and costs you 25 USD. It is a single-entry visa and valid for 30 days. So, here is how to apply for an e-Visa in Vietnam:
Step 1: Prepare the required documents:
One passport-size photo (4×6 cm) in .jpg format with a bright background, without glasses.
One photo in .jpg format of your passport data page
Passport valid for at least 6 months
Your temporary address in Vietnam and entry and exit points
Debit or credit card for payment
Step 2:
Access this link and go to the e-visa page for foreigners.
Step 3: Upload your .jpd images (passport data page and passport photo and fill out the form. Then submit the form.
Step 4: Pay the e-visa fee of 25 USD. Copy down the registration code provided.
Step 5: Receive news of your e-visa application through email within three working days. If not, use your registration code to check your application status.
Step 6: Download and print the e-visa in two copies for extra safety.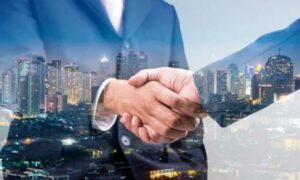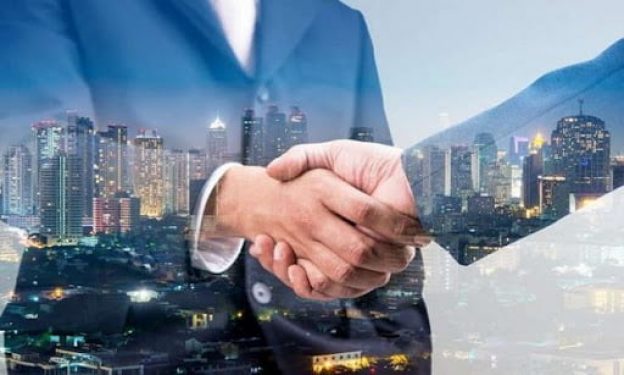 Vietnam Visa on Arrival
To get a Vietnam visa on arrival, you need to follow these steps:
Apply online.
Receive the Approval letter upon arrival by email, then print it out.
Prepare: Immigration Declaration, two photos 4×6 cm, passport, and stamping fee in cash.
Present the above documents to the Visa On Arrival counter staff at the airport and pay the stamping fee to have the visa stamped on your passport.
List of Vietnamese airports that issue visas on arrival:
Noi Bai international airport (Hanoi)
Tan Son Nhat international airport (Ho Chi Minh City)
Cat Bi international airport (Hai Phong)
Da Nang international airport (Da Nang)
Cam Ranh international airport (Khanh Hoa)
Lien Khuong international airport (Da Lat)
Can Tho international airport (Can Tho)
Phu Quoc international airport (Phu Quoc)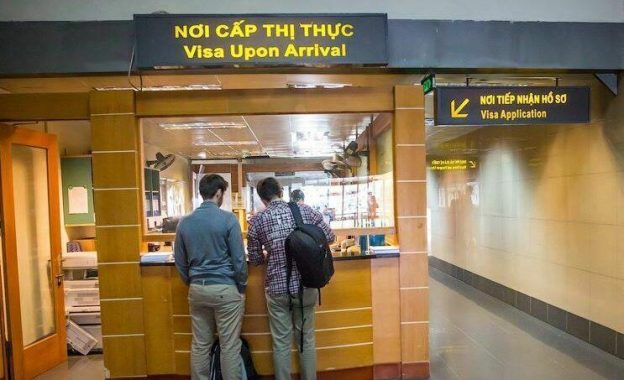 Vietnam visa types by purpose
According to the new immigration regulations (Law No. 51/2019/QH14) that came into effect on July 1, 2020, Vietnam visas are classified into about 21 main types according to the purpose of visit, namely DL, DN1, DN2, NG, DT1, DT2, DT3, DT4, LS, DH, LV, LD1, LD2, HN, PV1, TT, SQ, etc.
Six common types of Vietnam visas are:
Tourist Visa (DL)
Work visa (LD1 – LD2)
Business visa (DN1, DN2)
Investor visa (DT1, DT2, DT3, DT4)
Student/Internship Visa (DH)
Diplomatic visa (NG)
Other main Vietnam visa types include:
Here are more details about the six most popular visa types in Vietnam
1. Tourist visa
Tourist visas are only issued to foreigners who are visiting Vietnam and not doing any business in the country.
To apply for a tourist visa, you must need:
A passport with at least 6 months of validity from the intended arrival date (temporary passports may not be accepted)
2 blank pages on the passport for visa stamp
2 photos 4x6cm
Foreigners can now obtain Vietnam tourist visas in the following three ways:
Visa on arrival (VOA – highly recommended for those who travel to Vietnam by air)
Embassy visa
An electronic visa (1-month single entry, and nationals of 80 countries only)

2. Work visa
Vietnam work visas are issued to foreigners who come to Vietnam for work. It is divided into:
LD1 – Issued to foreigners who come to work in Vietnam with a work permit exemption certificate, unless otherwise stipulated in international treaties to which Vietnam is a party.
LD2 – Granted to those who must have a work permit in Vietnam to work.
This type of visa is valid for up to 2 years in Vietnam. If you want to stay longer in Vietnam, you need to apply for an LD temporary residence card valid for up to 2 years.
To get a visa to work in Vietnam, you must follow these steps:
Step 1: You need to ask the Vietnamese company you will work for to apply for an LD visa approval letter from the Vietnam Immigration Service
Step 2: You will then get your visa stamped at the Vietnamese embassy or consulate abroad or at the port of entry, depending on the type of visa approval letter you have issued
Notes:
Before you can apply for a visa and travel to Vietnam, you must have a work permit or at least be in the process of getting a work permit.
Applying for a work visa in Vietnam usually does not require a criminal record or a health check.

3. Business visa
Business visa in Vietnam is categorized into:
DN1 visa – to be granted to foreigners who work with other businesses and organizations with legal status by the laws of Vietnam.
DN2 visa – issued to foreign individuals who enter into Vietnam to promote services, establish a commercial presence, or conduct other activities in accordance with international agreements to which Vietnam is a member.
To gain a business visa (DN visa), you need to prepare the needed documents as follows.
Your passport with at least 6-month validity and two blank pages for Vietnam's visa stamp and immigration stamp.
Two passport photos.
Sponsorship letter from a certified company in Vietnam.
Vietnam visa application that can be filled out online.
There are two ways to apply for a Vietnam Business Visa
Vietnam Embassy or Consulate overseas near your living place (with the sponsorship letter).
Visa on arrival (no sponsorship letter is needed)

4. Investor Visa
An investor visa in Vietnam is a type of visa granted to international investors working in Vietnam.
To obtain a DT visa for Vietnam, eligible applicants must prepare the below documents:
Passport
Form NA5 – Visa application, visa extension, and stay extension for foreigners in Vietnam
Form for registering for temporary residence as required
Sponsoring company's invitation letter
If you are a foreign investor, you must provide proof of legal status as defined by Vietnamese law
Certified copy of the Business Registration Certificate/

Investment Registration Certificate

Certificate of seal specimen registration or a notice on the publication of information on seal specimen of the enterprise on the national enterprise registration portal
Form NA16 – Registration form for the seal and signature of the legal representative of the enterprise operating in Vietnam
Lawyer license (in case you are a lawyer)
Costs of starting a business in Vietnam
5. Student visa
DH visa is issued to foreign students who come to study in Vietnam. The duration of the DH visa does not exceed 12 months.
Important information and documents for the DH visa approval letter include:
Legal information and documents of inviting educational institutions
A written agreement between an overseas university, college and a Vietnamese student or a written acceptance from a Vietnamese school or educational institution identifies suitable students.
Academic program and other information; personal information shown on the applicant's passport; date, port of entry and exit; place where entry visa was obtained, single entry or multiple entries…

6. Diplomatic visa
A Diplomatic visa in Vietnam is granted to:
Members of a delegation visiting Vietnam for the invitation of the Vietnamese ministries or other high ranked government officials
Consulate personnel in Vietnam
Those who go for work with consulate members or visit them for a short period
There is no fee for a diplomatic visa in Vietnam unless it has been decided by the Vietnamese embassy and the applicant's home country.
A Diplomatic visa in Vietnam is valid for up to 12 months.

Vietnam visa types by validity length
There are various ranges of visa validity length in Vietnam:
1-month single entry visa
1-month multiple entry visa
3 months single entry visa
3 months multiple entry visa
6 months multiple entry visa
1-year multiple entry visa
Visa exemption in Vietnam
Foreigners may visit Vietnam without applying for a visa for a certain period.
To get visa exemption in Vietnam, the eligible travellers are required to ensure 2 requirements:
Passport is valid for at least 6 months from the date you plan to enter Vietnam
The passport has at least 2 blank pages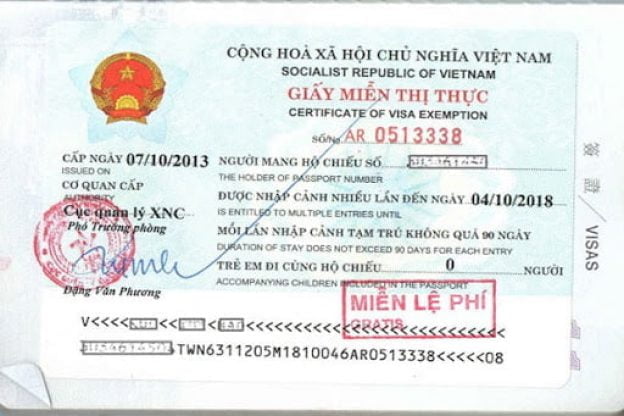 As of January 2019, passport holders from 24 countries do not require a visa in Vietnam. Below is the list of Vietnam visa-free countries:
Talk to us
Whether you're looking to enter Vietnam, or have been operating there for years, it's important to work with a partner on the ground who knows the culture, law, policy, or potentials and can help you avoid any unwanted mistakes and navigate the minefields.
Get in touch with Bizspective to discuss how we can help to take your Vietnam business to the next stage.