If you are considering investing in businesses in Vietnam, you need to know what websites have the best business for sale listings.
Vietnam is a rapidly growing country with an exploding population. There are many benefits to buying a business in Vietnam, but before you start your search for the "perfect" website, take a look at this list of reliable websites that have businesses for sale in Vietnam.
SMERGERS is a leading brokerage and asset management company that has a strong presence. SMERGERS offer a wide range of business for sale in Vietnam, from manufacturing to retail, from restaurants to hotels.
Currently, their database contains nearly 50 companies from all over Vietnam. There are also many other features available on SMERGERS, such as:
– The ability to search by category, location or price, industry,…
– A wide range of information provided by the seller;
– A form to contact sellers directly; and much more!
SMERGERS is a platform designed for businesses and financial advisors to connect through the creation of synergies. SMERGERS helps business owners sell their businesses, connect with interested buyers, and finance their operations through a range of financing options, including private equity or lending.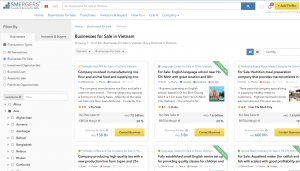 Visiup is a real estate company based in Ho Chi Minh City, Vietnam. They are a small but experienced team of experienced and professional real estate agents who are well-versed in the local real estate market.
Their goal is to provide customers with quality services and support while helping them to reach their goals in the fastest and most convenient way possible.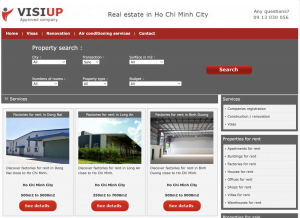 Bizspective is a reliable platform that helps foreign investors to establish their companies in Vietnam. We offer a wide range of services, such as free business start-up advice, expert consulting, and company registration.
Bizspective is currently TOP 1 on Google for business for sale in Vietnam!
Most of the businesses for sale on the Bizspective website are in the F&B industry and have a very reasonable price range. We evaluate information very carefully and work closely with business owners. Bizspective also has a strong network of specialists and experts in Vietnam. Therefore, if you need any business services, for example, transferring shares and ownership rights to foreigners, then just let us know, and they will be able to assist.
So, if you are looking for a good investment opportunity, then you should definitely check out our list of businesses for sale in Vietnam. The website is easy to navigate, and the information is updated regularly. The search engine is also very useful and easy to use. You can filter by sector, location, price range, ownership state, or investment type.
One of our main goals is to help foreign investors get into the Vietnamese market without having to worry about any legal issues or language barriers. Bizspective offers full support from start-ups all the way through to exit when selling your business or transferring it to another owner.
Want to see what listings we have? Find out here: https://bizspective.com/business-for-sale/
Sanmuabandoanhnghiep.vn is operated by Newvision Law Company – a law company based in Vietnam. On the basis of an online trading platform for business mergers and investment connections, Newvision Law is committed to being a bridge between Vietnamese businesses and potential foreign investors.
Unfortunately, they only provide information in Vietnamese and have limited information about each business for sale.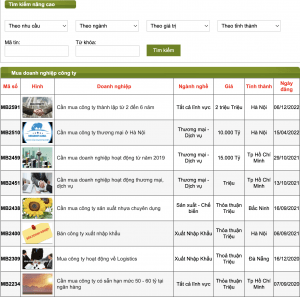 Conclusion
In this article, we have recommended some websites from which you can purchase your next business or franchise. From F&B to retail and manufacturing, there is a wide range of industries to choose from. You can find businesses in practically every area. This demonstrates that whether you want to own a business or franchise in Vietnam or globally, there are successful businesses available at any time. Just look for it!
As you can see, there are only a handful of reliable websites that provide a list of businesses for sale in Vietnam at the moment. Make sure to do your research carefully before making any big decision.
When it comes to business for sale in Vietnam, we all have different opinions, but there's one thing that has always united us: our desire to succeed. Whether you're a local or an expat interested in starting up a new business in Vietnam, it's important to find the right partner standing beside you with the right solution​ and service at hand. Start your own business with the help of Bizspective's experts and receive stellar service, transparent prices, 24/7 customer support, and transparent deals!