Are you looking for a business broker in Vietnam? Do you know what they do? Or how to find them?
And even though a business broker is super helpful, not everyone needs it. Wonder why? Let's find out more about business brokers in Vietnam with Bizspective.
Business brokers in Vietnam – who are they?
According to the 2005 Trade Law, a brokerage is an act of mediating for parties to contact and negotiate, establish relationships and receive remuneration. Brokerage activities include: finding customers and conducting initial negotiations with them, assisting in negotiating and signing contracts between the parties. In each different industry, there will be different brokerage content.
The broker does not directly enter into a contract with the customer but is only an intermediary, helping the parties contact, meet and establish relationships with each other. The broker is entitled to remuneration according to the agreement.
Same thing in Vietnam, a business broker acts as a mediator between business owners who want to sell their businesses and those who want to buy them.
As business brokers in Vietnam have significant knowledge and experience in the local market, they can assist you in finding the right buyer or business to purchase. A business broker in Vietnam can be one individual or a company.
Furthermore, a business broker in Vietnam may provide additional services like business valuation, marketing, negotiation, and transaction support to ensure both parties' successful and smooth transition.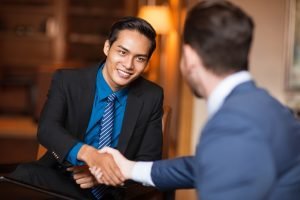 What does a business broker do?
A business broker has a list of tasks they must complete to make sure the sale goes smoothly, timely, and with a good price.
Here's what a business broker in Vietnam can do:
●
Prescreening the business for sale to pinpoint its strengths and weaknesses
●
Structuring the payment method (payment plan, currency, etc)
●
Helps decide on a fair price for the business based on the market situation
●
Writes an offer summary, including assets and liabilities,… to show potential buyers
●
Advertises the business for sale and locates potential buyers
●
Arranges meetings between buyers and sellers
●
Supports the negotiation process
●
Makes sure all the necessary paperwork is done correctly
●
Ensures that the payment plan goes through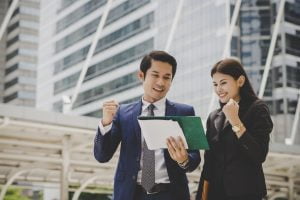 Why should you hire a business broker in Vietnam?
Hiring a business broker in Vietnam can be costly, but they also offer tremendous help. Here are 5 reasons why you should get a business broker when selling your business in Vietnam:
1.
A business broker can help you
increase your business value before selling
. When reviewing your business for sale in Vietnam, a business broker can identify some problems that can be solved before listing, this can increase the price of your business.
2.
You can have a better valuation with the help of a business broker. They will surely find and highlight your business's best aspects and make it look more competitive. More competitor buyers mean higher prices can be offered.
3.
A business broker in Vietnam will have more connections and know right where to find you a good buyer. They also have many resources that you can take advantage of, like their knowledge of marketing or paperwork skills.
4.
Due diligence is important but hard to navigate if you are a first-time seller. In this case, getting help from a business broker can be a good idea. Furthermore, a business broker in Vietnam also has a good understanding of the local law, which can be hard for foreign business owners.
5.
If you're not used to big transactions like selling a business, a business broker can oversee the entire process and make sure everything goes according to plan with your best interest in mind.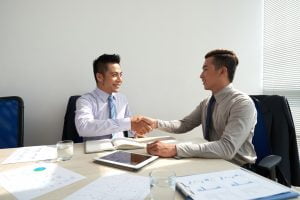 Do you really need to get a business broker in Vietnam?
As mentioned above, getting a business broker can be expensive, and it is not for everyone. So the short answer is: No, getting a business broker is not compulsory.
If you are a small business owner in Vietnam, hiring a business broker to help out is impractical and not necessary. While business brokers can provide valuable services, it is true that their fees can be costly and may not always be suitable for those with limited resources.
For small business owners in Vietnam, you can navigate the sale process by carefully researching and seeking advice. Bizspective has a lot of articles on this subject that can be helpful, like Selling your small business in Vietnam: 5 steps guideline, 10 tips to maximize the value of your business for sale, Selling a business in Vietnam: A guide for entrepreneurs, etc. Feel free to dive deeper into our Blog section here.
In the end, the decision to hire a business broker depends on factors such as the complexity of the transaction, the specific needs and goals of the business owner, and the available budget. It is important to carefully assess the advantages – disadvantages of each option and find what works best for you.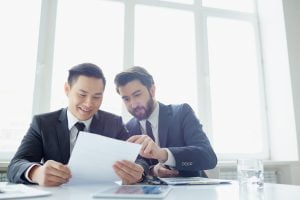 How to find a business broker in Vietnam?
1.
Seek recommendations from friends, family, or colleagues
If you know someone who has recently purchased or sold a business in Vietnam, ask them for recommendations. They may be able to refer you to reputable business brokers they have had positive experiences with.
2.
Conduct an online search
There are several websites for you to find business brokers in Vietnam. You can filter your search by location, industry, and other factors to find a broker specializing in the type of business you want to sell.
3.
Interview your business broker
It is crucial to interview various business brokers to compare their fees, services, and experience. It is also important to ensure that you feel at ease with your chosen broker. Ask them some questions below to make sure you find the right one:
●
How long have you been in business?
●
What types of businesses do you specialize in?
●
What are your fees and commission structure?
●
How will you market my business?
●
What is your success rate?
●
Can you provide references?
Bizspective provides all types of services related to business in Vietnam, like consulting, setting up or registering new businesses, connecting you with specialized experts, etc. If you are a foreign entrepreneur in Vietnam, get your free business report here. Or send us a message anytime!
Businesses For Sale Listings
In Vietnam