Da Nang, one of Vietnam's most thriving cities, is home to a growing economy and promising business opportunities. For foreign entrepreneurs looking to find a business for sale in Da Nang, it's important to understand the local market and regulations.
In this blog, we'll provide you with all the information you need to know about buying a business for sale in Da Nang.
1.1. Da Nang living environment
Da Nang – one of the 5 best places to retire in Vietnam according to our ranking – is a beautiful city with lots of beaches and an affordable cost of living. It is a coastal city in central Vietnam and is a popular destination for both tourists and expats.
Da Nang is located among several UNESCO World Heritage Sites, such as Hoi An, Hue and My Son Sanctuary, making it a popular destination for investors and tourists.
Foreigners may find the living conditions in Da Nang generally very good, with lots of amenities. Da Nang caters to both those who prefer a laid-back style and those who prefer an urban lifestyle. Furthermore, even though Da Nang has all types of amenities, its living expenses are lower than in Ha Noi and Ho Chi Minh City.
This city offers a wide range of housing options, including apartments, villas, and serviced apartments. There are also a number of international schools and hospitals in Da Nang, making it a good choice for families with children or those who need access to quality healthcare.
Overall, Da Nang is a safe and welcoming city with a lot to offer, both in terms of lifestyle and convenience.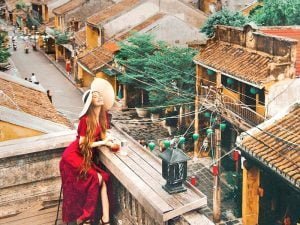 1.2. Da Nang business environment
Da Nang is a top choice for foreign investors looking to invest in Vietnam's central region. The city has a strategic location and is rapidly industrializing, making it an attractive destination for investment. Moreover, Da Nang also has a stable economic environment with consistent growth over the years.
Da Nang has adopted many policies to help local businesses, especially small and medium-sized ones (SMEs). From 2018 to 2021, it has been consistently ranked among the top five localities in Vietnam's province competitiveness index (PCI). In 2021, Da Nang had 40 newly registered projects and 19 capital-adjusted projects. It also attracted more than $172.34 million in foreign capital.
There are four key drivers contributing to Da Nang's business-friendly atmosphere: livability, labor, infrastructure, and regional connectivity.
●
Livability: Da Nang has a clean environment with beautiful beaches. The Cost of living in Da Nang is affordable.
●
Labor: Da Nang has a young and skilled workforce. With its ideal locations, Da Nang attracts young talents from both Southern and Northern Vietnam, making it easy to find qualified employees.
●
Infrastructure: Da Nang has a well-developed infrastructure, including an international airport, seaport, and road network. The government has prioritized infrastructure development in Da Nang recently, specifically on transportation, telecommunications, and urban planning.
●
Regional connectivity: Da Nang is located in the heart of Vietnam's central region. The city is a major transportation hub and is well-connected to other major cities in Vietnam, such as Hanoi and Ho Chi Minh City. Da Nang Port is also selected as the final point of the East-West Economic Corridor, connecting the four countries of Myanmar, Thailand, Laos and Vietnam, and is the main gateway to the South China Sea for the whole region.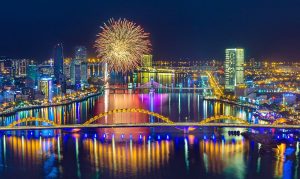 1.3. Da Nang's top business sector
●
High-tech, Information and Communications Technology: Foreign investors and businesses have many advantages when investing in these areas since the government prioritized it with lots of incentives. This strategy aims to position Da Nang at the forefront of added-value industries and a smart and sustainable city.
●
Tourism: Da Nang is a popular tourist destination with beautiful beaches, historical sites, and a vibrant culture. The city is well-positioned to attract more tourists in the coming years.
●
Education: Da Nang is a major educational center with a number of universities and colleges. The number of English centers in Da Nang has been increasing in recent years.
●
Retail: With the population growing fast, Da Nang is an ideal place to start a retail business.
Get Your FREE Business Set-up
& Investment Report
2.1. Da Nang supports SMEs and is open to foreign investors
Da Nang is a bustling metropolis that offers various business opportunities. Its local government has a strong focus on supporting small and medium-sized businesses (SMEs), making it an ideal location to start a business. Furthermore, Da Nang has a reputation for being very open to foreign investors.
On the other hand, some areas in the city are not available to foreign investors for national security reasons. Therefore, buying a business for sale in Da Nang with a previous foreign owner is a safer option.
2.2. Da Nang has an ideal location
One of the key advantages of buying a business for sale in Da Nang is its strategic location. Da Nang's location on the coast is ideal for international commerce and trade.
The city also has a developed transportation infrastructure with an international airport, seaport and other facilities that make it convenient for both domestic and international businesses.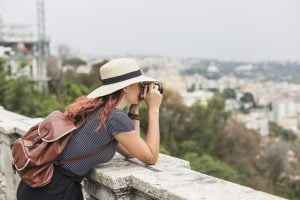 2.3. Da Nang attracts a lot of tourists
Da Nang is a popular tourist spot due to its beautiful beaches. You can surely profit from the city's growing tourist market. However, serving such a wide range of customers can be challenging, and there are inevitably going to be mistakes made. What if there is no market need for your products?
By buying a business for sale in Da Nang, you can avoid this problem. When reviewing the business for sale financial history, you will understand the sale trends, the profitability, and also its customer base. With this important information, your investment will be more secure, and the ROI (return on investment) will be higher.
2.4. Disadvantages of buying a business for sale in Da Nang
●
Buying a business for sale in Da Nang can be expensive. However, the cost of a business for sale can vary depending on its location, size, type of business,… If you search carefully, there is definitely a suitable match for you. Take a look at our list of businesses for sale in Da Nang
here
.
●
Da Nang has some restricted areas because of national security reasons. These areas will not allow foreign-invested business. Therefore, buying a business with a prior foreign owner in Da Nang is a common and safer choice.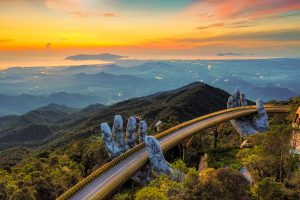 ●
Step 1: Find a business for sale in Da Nang
Ask yourself these questions: What are your goals? What is your budget? What type of business are you looking for? Then, you can begin your search simply by go asking around or taking a look at the list of businesses for sale on our website: https://bizspective.com/business-for-sale/
Once you have found a business that you are interested in, you need to determine what you believe the value of the business is. You can do this by a number of methods, and it does depend on the type of business/industry to which method you would use. If you need support, the Bizspective team can support you.
●
Step 3: Negotiate the price
It is important to understand the value of the business and be confident about your offer during negotiations. A close offer will increase your chances of reaching a successful deal.
●
Step 4: Complete due diligence
Due diligence is an important process of carefully evaluating a business before investing. For more information on this topic, read one of our posts here.
It is a good idea to hire a local lawyer to make sure that all paperwork and the ownership transfer process comply with Da Nang's laws.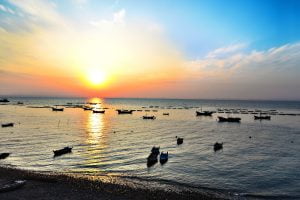 4.1. Research carefully
Before buying any business, it is important to do your research and learn as much as you can about the business, the industry, and the local market. This will help you make an informed decision about whether or not the business is a good fit for you. Read our guide on How to buy a business in Vietnam for more information on all the steps.
4.2. Seek help from experts
If this is your first time buying a business for sale in Da Nang, it is a good idea to get professional help from a local lawyer or business broker. They can help you navigate the process and make sure that you are getting a fair deal. Bizspective has lots of experts located in Da Nang that are ready to help, send us a message if you need anything.
4.3. Complete due diligence cautiously
It is important to do your due diligence right when buying a business for sale in Da Nang. This includes reviewing the business's financial records, inspecting the property, and more. Learn more about this process with our blog here.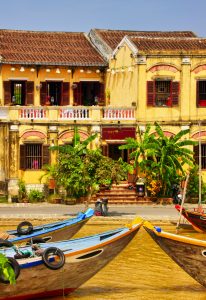 Here are some key takeaways:
●
Da Nang is a beautiful city with an affordable cost of living and a stable growing economy.
●
The business environment in Da Nang is very supportive and open to foreign investors.
●
Advantages of buying a business for sale in Da Nang: supportive of SMEs and foreign investors, strategic location, and attracting lots of tourists.
In short, there are many reasons to buy a business for sale in Da Nang. It is a desirable destination for entrepreneurs due to its thriving economy, ideal location and high quality of living.
At Bizspective, we have many business experts that are based in Da Nang. So feel free to message us anytime or get our free business report here.
Businesses For Sale Listings
In Vietnam